Elsner is Headed to Hygienix 2022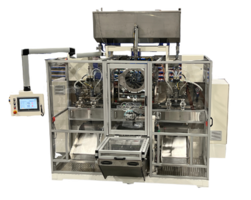 November 2022, Hanover, PA: ELSNER is headed to Hygienix 2022. Hygienix 2022 is the leading show for the absorbent care and personal hygiene markets. Hygienix will be held from November 14-17, 2022, at The Roosevelt New Orleans Hotel in New Orleans, LA. This year's event will feature three days of premium content, scheduled networking, product innovations, and awards.
This year Hygienix will focus on sustainable inputs, natural fibers, product transparency, and who is shopping for sustainable products. ELSNER looks forward to jumping into the conversation as we continue to serve the wipes industry and help customers keep up with demands.
With employment issues still a concern for manufacturers, ELSNER machines can help make production more efficient with further automation. ELSNER Sales Engineers will be on hand to talk about the new ERB-305, ELSNER Roll Bagger, which perfectly integrates with the ELSNER ENR Series Perforator Rewinders. Jay Roth, Director of Sales, says "we are excited to bring our latest downstream solutions to Hygienix." The ERB-305 is designed to optimize bag size for cost savings, streamline packaging, and improve the means of filling and sealing.
In addition to the Roll Bagger, ELSNER looks forward to discussing other automated solutions with Hygienix attendees. Contact ELSNER for any inquiries: [email protected]
About ELSNER:
Founded in 1934, Elsner Engineering Works, Inc. Celebrates over 85 years as a family-owned company. ELSNER is a world leader in converting equipment for a wide range of industries and offers sales and service support of its equipment from its headquarters in Hanover, Pennsylvania, Shanghai, China, and EU support based in Germany. With over 3,000 machines in service throughout 60 countries globally, ELSNER leverages teamwork, accountability, and craftsmanship to exceed customer expectations and build brand loyalty. With a 60,000-square-foot expansion, ELSNER is ready for many more years of successful partnerships with its customers.