Elkhart Plastics, Inc. Adds Wheeled Cooler to KONG Coolers Product Line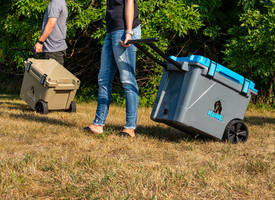 South Bend, IN — Elkhart Plastics, Inc. (EPI) is expanding its KONG Coolers product line with the KONG Cruiser, a high-end rotomolded wheeled cooler.
Since 2017, KONG Coolers has been helping customers journey longer with coolers that retain ice for longer than almost any other cooler brand in the industry. Now, adventurers can journey further with the new KONG Cruiser. At 50 quarts, the wheeled cooler is ideal for hauling food and drinks to the beach for the day, or for a week-long trip.
"We're excited to introduce a wheeled cooler to the KONG line," Jack Welter, CEO of EPI, says. "This new model offers the same rotomolded construction and features our customers love with the added value of wheels to make cooler transportation easier."
The KONG Cruiser holds up to 40 12-ounce cans and 30 pounds of ice. Its outer dimensions measure 25.25" x 18.5" x 20.25" with inner dimensions of 17.625" x 13.625" x 15.25". It's currently available in the company's classic Winter White, Tactical Tan, and Boulder Blue colors. More colors will be added in the future.
The KONG Cruiser joins the brands existing 25-, 50-, 70-, and 110-quart models. Like other models in the line, the KONG Cruiser is made and assembled entirely in the United States. All KONG coolers are feature rich and built to handle the harshest environments. Divided storage keeps food and beverages organized, gaskets in combination with latches create an insulated super seal to keep the cold in and everything else out; rigid, padded handles allow for easier carrying without sloshing; and snap-tight hinges and latch systems provide secure storage.
Additionally, the brand offers a full lineup of unique accessories including KONG Cut'N Trays that easily hook to the side of the coolers with a KONG Kicker to complete a secure surface for preparing food and drinks. Other popular accessories include the KONG Bottle Biter to open drinks, KONG Krush Guards to protect fingers, and dividers for cooler organization.
Extremely durable and more affordable than other expedition-ready, premium coolers on the market, KONG Coolers feature a limited lifetime warranty and are backed by a 30-day satisfaction guarantee.
EPI, a privately owned, American company, owns and manufactures KONG Coolers in Atlantic, Iowa. KONG Coolers are available at kongcoolers.com and on Amazon. The company also offers bulk orders, custom designs, and cooler manufacturing.
KONG Coolers have been engineered to outlast the competition with long-lasting ice retention and rugged durability. The proprietary design uses a gasket in combination with latches to create a lid seal that not only seals, but insulates to keep the cold in and everything else out. KONG Coolers are constructed and assembled in the United States by Elkhart Plastics, Inc., a company with decades of rotomolding expertise. For more information about KONG Coolers, visit www.KONGcoolers.com.
Elkhart Plastics, Inc. is a 32-year-old company that creates rotationally molded products in an almost endless variety of shapes, lengths, and thicknesses out of its six facilities. The company provides custom designs for clients in industries including recreational vehicles, marine, agriculture, commercial construction equipment, heavy truck equipment, material handling, and more. In addition to KONG Coolers, EPI also manufactures TUFF Stack ™ and TUFF Cube ™ Intermediate Bulk Containers and Connect-A-Dock.
Media Contacts:
Hilary Welter
Marketing Manager
Elkhart Plastics, Inc.
3300 N. Kenmore
South Bend, IN 46628
P: 574-232-8066 ext. 159
E: hilary.welter@epi-roto.com
Jack Welter
CEO
Elkhart Plastics, Inc.
3300 N. Kenmore
South Bend, IN 46628
P: 574-232-8066
E: jack.welter@epi-roto.com
More from Electrical Equipment & Systems