ElectroTech Sales Offers New Combiner Box Distribution Blocks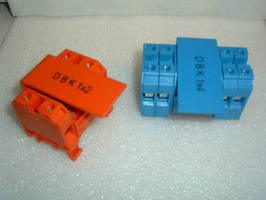 Electrotech Sales Group offers a simple and cost effective solution for both power distribution and collection. As part of a combiner box, the distribution blocks can accept up to 16 inputs with an output sized up to 1 AWG (130 amps). These DIN rail mounted blocks can also offer a simple method for UL approved ground wire collection. A complete range of configurations and colors are available.

The Electrotech series of Din rail mount Outlet Boxes provides a convenient power source in the control cabinet for laptops, test equipment, lighting and more.

Electrotech Sales Group, LLC offers innovative products for control panel design at competitive pricing. For more information please see our website www.esgllc-usa.com, or contact us sales@esgllc-usa.com or call (215) 997-8855.

More from Architectural & Civil Engineering Products