Electronic Water Meter is suitable for utility management.
Press Release Summary: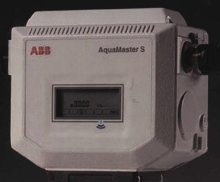 AquaMaster S incorporates flow, pressure measurement, and datalogging in one unit. Available in sizes from 5/8 to 24 in., portable AquaMaster S submersible Electronic Display Unit has IP68 housing that can be installed up to 650 ft from sensor. Display incorporates multi-channel, multi-variable logger that runs at two speeds simultaneously. Totalizer and tariff logger logs all volume totals and tariff reading totals and stores information for 366 days.
---
Original Press Release:

AquaMaster S Improves Utility Management


ABB AquaMaster S Electronic Water Meter Incorporates Flow, Pressure Measurement and Datalogging

July 22, 2002. ABB Water Meters, Ocala, Florida, today announced release of AquaMaster S, an integrated water measurement system for potable water with outstanding accuracy, and combining flow, pressure measurement and datalogging in a single unit. AquaMaster S incorporates the revenue improvement and cost saving features of AquaMaster while eliminating system interconnection and configuration issues, improved data resolution and assured reliable start-up. AquaMaster S is available in sizes 5/8" to 24", and either AC-powered with battery back up or battery powered.

The AquaMaster S submersible Electronic Display Unit, in an IP68 (NEMA 6P) housing that can be installed up to 650 feet from the sensor, provides the most comprehensive range of flow data and information currently available to the water industry. The display incorporates a multi-channel, multi-variable logger that can run at two speeds simultaneously, enabling the user to investigate, in precise detail, the flow and pressure activity over the desired period. For revenue applications, not only is the flow and pressure logged information available, but included is a totalizer and tariff logger that logs all volume totals (forward, reverse, net) and tariff reading totals every midnight and stores the information for 366 days.

The AquaMaster's internal loggers feature an advanced, automatic time synchronization feature that ensures operation on synchronized time boundaries, no matter what logging interval is set. This feature allows flow and pressure data, when combined with data from other meters, to be precisely synchronized, for precise system balance.

ABB supplies AquaMaster S with LogMaster software, a simple-to-use PC software program that provides local communication to the meter. It enables full control and downloading of the datalogger for export of logger data for charting in Microsoft(TM) Excel or similar spreadsheets. AquaMaster S is also available with a variety of industry-standard third party software for downloading, managing, analysis and display of data.

The AquaMaster S battery-powered Electronic Water Meter operates between 99.5% and 100.5% over a broad normal operating range. AC-powered AquaMaster units operate between 99.75% and 100.25% over an even broader flow range: on the 4" size between 10 gpm and 1268 gpm. AquaMaster also offers low flow accuracy comparable to mechanical designs. On its 2" size, AquaMaster measures flows as low as 0.18 gpm (AC) and 0.4 gpm (battery).

ABB (http://www.abb.com) is a global leader in power and automation technologies that enable utility and industrial customers to improve performance while lowering environmental impact. In addition to producing over 8 million water meters each year, ABB is the world's leading supplier to the water industry, and is a leading source for water supply and wastewater treatment plants, instrumentation and control products, motors and drives and water application software. ABB has some 152,000 employees in more than 100 countries. The company's U.S. operations employ more than 14,000 people in manufacturing and other facilities in 40 states.

Additional information on ABB's Metering Solutions and Project Capabilities can be found at abb.com/metering [select Water Metering, North America, Turnkey Solutions] or by contacting the Customer Service Team, P.O. Box 1852, Ocala FL, 34478. In the U.S. Outside Florida, please call 800-874-0890 or inside Florida 800-356-6829. In Canada please phone 800-263-9110, in the Caribbean 787-872-2006 or in Mexico 525-328-1400. You can also e-mail us at abbwatermeters@us.abb.com.

For more information please contact:
ABB Water Metering
Heidi Walsh
352-732-4670 phone
352-368-1950 fax
heidi.walsh@us.abb.com

More from Electronic Components & Devices