Electronic Torque Wrenches provide detailed information.
Press Release Summary: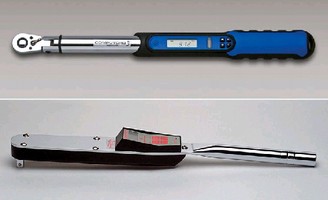 Available in ¼, 3/8, and ½ in. models, Computorq III E-WRENCH digitally displays fastener torque specification settings, torque readings, and peak hold measurements on LCD display. Keypad has selectable torque units and conversion readout in ft-lb, in-lb, kg-cm, and Newton meters. Offered with ¾ or 1 in. drive, Computorq II stores up to 4,000 torque values in memory and can download individual values or stored values to printer, computer, or data logger via modem.
---
Original Press Release:

Wright Tool Electronic Torque Wrenches Provide Detailed, Accurate Information



BARBERTON, OHIO - April 2007 - A line of electronic torque wrenches for measuring torque values on fastening applications is available from Wright Tool.

The Computorq III E-WRENCH digitally displays fastener torque specification settings, torque readings and peak hold measurements on a LCD display. A keypad has selectable torque units and conversion readout in foot-pounds, inch-pounds, kilogram-centimeter and Newton meters. It is available in 1/4" (Part No. 2473), 3/8" (Part No. 3474) and 1/2" (Part No. 4474) drive wrenches.

Available in two drives, 3/4" (Part No. 6473) and 1" (Part No. 8473), the Wright Tool Computorq II wrench stores up to 4,000 torque values in memory. The Computorq II downloads individual torque values or stored values can be directly downloaded to a printer, computer or data logger via a modem. All seven basic engineering torque units (foot-pounds, inch-pounds, inch-ounces, Newton meters, NM, Mkg. and cmkg) are available on most models and are easily selected through the keypad.

Wright Tool offers more than 4,000 tools for the industrial, contractor, and MRO markets. All Wright-manufactured products are U.S. made and carry lifetime guarantees against defects in workmanship. The company is located at One Wright Drive, P.O. Box 512, Barberton, OH 44203. Phone: 800-321-2902. Fax: 800-543-2095. E-mail: sales@wrighttool.com. Web site: www.wrighttool.com.

If possible, please e-mail inquiries to: sales@wrighttool.com or, send to: Greg Helbling, Wright Tool Co., P.O. Box 512, Barberton, OH 44203