Electronic Lube Meters utilize long-life, top-load battery.
Press Release Summary: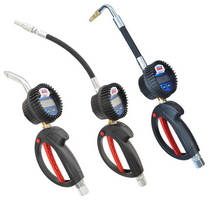 Intended for vehicle maintenance, lube truck, and industrial applications, Models 980/981/982 feature 6-digit digital display with 2 decimal point precision and selectable units of measure. Pressure and flow capabilities are 1,500 psi and 8 gpm, respectively. While Model 980 has 90 in. flex hose with swivel and manual tip, Model 981 utilizes 5 ½ in. rigid spout with automatic tip, and Model 982 features 13 in. flexible extension with automatic tip.
---
Original Press Release:

Lincoln Upgrades Electronic Lube Meters



ST. LOUIS . . . Lincoln has introduced its new Model 980, 981 and 982 Electronic Lube Meters for vehicle maintenance, lube truck and industrial applications. These durable meters are upgrades to Lincoln's popular 952, 953 and 954 models.

The new meters feature a large, easy-to-read, six-digit digital display with two-decimal-point precision. The pressure rating has been increased to 1,500 PSI, and the flow capability has been improved to 8 GPM. The meters have a resettable and non-resettable totalizer that displays dispense quantities in pints, quarts, gallons or liters. Each unit has a long-life, field-replaceable, top-load battery and ½-inch ball bearing swivel. In addition, the meters have a locking trigger with built-in trigger guard.

The Model 980 has a 90-inch flex hose with swivel and manual tip, while the Model 981 utilizes a 5½-inch rigid spout with an automatic tip. The Model 982 features a 13-inch flexible extension with an automatic tip.

For more information on Lincoln's Model 980, 981 and 982 Electronic Lube Meters, contact Customer Service at 1-314-679-4200, Ext. 4410, or visit our web site at www.lincolnindustrial.com.

Established in 1910, Lincoln is a world leader in the manufacture and sale of lubrication and pumping equipment for use in vehicle service and industry. Lincoln headquarters are located at One Lincoln Way, St. Louis, Mo. 63120-1578.

Please forward all reader service inquiries to:
Lincoln Lead Response
4610 Planned Industrial Drive
St. Louis, MO 63120
lincolnleads@sbcglobal.net

More from Architectural & Civil Engineering Products