Electronic Loads simplify battery testing.
Press Release Summary: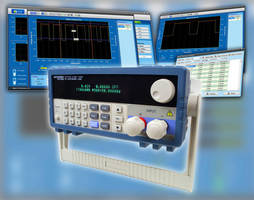 Facilitating testing or characterization of individual battery cells or multi-cell stacks, EL97xx series has 0–500 V input rating, offers 150–6,000 W power ratings, and can be combined to provide >6,000 W of load to accommodate any current carrying component. Battery testing can identify individual faulty cells, while automated testing provides repeatability. Features include 6 modes of operation, dual range 16-bit resolution measurements, and storage for test data.
---
Original Press Release:

Battery Testing Made Simple with New INTEPRO EL97xx Electronic Load Series



The new EL97xx series of electronic loads available now from INTEPRO SYSTEMS, market leaders in power component and power system automated test equipment (ATE), offers users a simple means to test or characterise individual battery cells or multi-cell stacks.



Models are available with power ratings from 150 to 6,000W for use as simple front panel controlled bench test or repair instruments to components in complex, automated test and burn-in systems. Applications include repair of power supplies and equipment through to testing batteries used for high reliability UPS and data-protection systems. Comprehensive battery testing can identify individual faulty cells allowing battery stacks to be rebuilt, reducing waste and recycling while improving reliability. Battery manufacturers can use the Intepro EL97xx series of electronic loads to characterise the performance of new designs, establish life expectancy and for production test. Automated testing provides repeatability and offers storage of test data for quality control, analysis and traceability. Test results may be fully interrogated and exported as spreadsheets or word documents into a SQL database.



All Intepro EL97xx electronic loads are supplied with comprehensive free software to simplify set-up and testing of batteries. Dynamic burn-in and discharge tests with user control of waveform may be simply performed with all test parameters available for user setting, live data is shown on a virtual control panel and a clear "capacity plot" is displayed. The user can add additional markers by using the icons on the tool bar to set a visual indicator to show the expected performance range.   As well as being a standalone instrument the EL97xx electronic load is also designed for easy integration into larger automated test systems and may be controlled by INTEPRO's open-source PowerStar software suite.



Simon Tanner, European Sales manager of INTEPRO SYSTEMS comments, "Battery testing can be difficult and time consuming. Our new EL97 range of flexible competitively priced electronic loads provide built-in battery test functions with easy to use computer control which go together to make the process of testing batteries simple, repeatable and low cost. The inbuilt test reporting also provides data for traceability and quality assurance which add up to providing confidence in your product for your end customers."



Intepro EL97xx electronic loads are very competitively priced from around $600 to $8,000 and ideal for research and development, inspection, service and test requirements in industry, research laboratories, training centres and education. The loads have an input rating of 0-500V, may be combined to provide greater than 6,000W of load, a 2 year warranty and are available on a 4 week lead-time.



Intepro EL97xx electronic loads enable testing of any current carrying component (e.g. connectors and terminals) and a wide range of dynamic load conditions may be simulated including solar cell and fuel cell loading, LED testing and battery discharge profiles. 6 modes of operation (CC, CR, CV, CC+CV, CR+CV) are available with fast rise-times and dual range 16-bit resolution measurements are performed with the accuracy of a digital multi-meter and the convenience of a single connection. The loads are fully protected against OP, OC, OV, OT and reverse polarity ensuring operational reliability and protection for the device under test. Special features include 999 measurements/hour, constant current mode soft-start, dynamic pulsing and programmable duty cycles.



Intepro has been the market leader in power supply testing for over 25 years and its systems are used in telecommunications, aero-space, military and other power electronics applications. Intepro has a global reach with direct sales offices in the UK, USA, Ireland and China and a global network of distributors.



Intepro have a highly specialised engineering team with world wide experience in delivering custom and turnkey test solutions, integrating the latest technological innovations to the test process such as, dual well fixturing, machine vision and automated handling. For more information contact Intepro on +44 (0)1252 875600, email sales@inteproate.com or visit www.inteproate.com



About Intepro Systems:

Since 1981 Intepro has supplied users and manufacturers all over the world ATE systems to test power electronics used in a wide range of applications. Our knowledge and expertise in moving and measuring power makes our system unparalleled for production testing, ESS screening, repair and characterization of power components and sub-assemblies used across all industries.



Intepro Systems manufactures, develops and services complex instrumentation and systems for the test and design validation of power supply systems and their components used in aerospace, military, telecommunications, and other power electronics applications. Leaders in power supply testing; the company has a global reach with direct sales offices in the U.K., Ireland, China and the USA, and distributors covering the rest of the world.



Contact:

Stuart Gibson

Intepro Systems

14712-A Franklin Avenue

Tustin, CA 92780

Cell:        949.394.8489

Office:    714.953.2686

Fax:        714.673-6567

Stu.Gibson@InteproATE.com

www.InteproATE.com



Proactive Marketing & Communications Ltd

37 Ramsdell Rd, Fleet, GU51 1DD

T: +44 (0)1252 642444

F: +44 (0)1252 676544

E: john@proactive.uk.com

W: www.proactive.uk.com

More from Test & Measurement