Electronic Door Lock incorporates privacy feature.
Press Release Summary: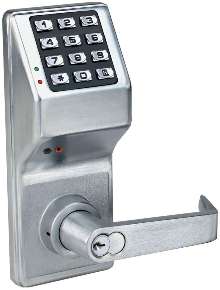 Trilogy® DL4100 Electronic Digital Privacy Lock uses modified ANSI cylindrical door prep and supports up to 2,000 individual user codes. Privacy feature, activated by pushing button on back of lock, prevents door from being opened from front entry side for preprogrammed duration. Flashing red LED on front of pushbutton indicates that room inside is occupied and that lock is in privacy mode.
---
Original Press Release:
New Alarm Lock Trilogy® DL4100 Electronic Digital Privacy Lock
Alarm Lock Systems, Inc., a Division of NAPCO, Amityville, NY, has recently added to its leading line of innovative electronic pushbutton access locks, introducing the new Trilogy® DL4100 Electronic Digital Privacy Lock. Like Alarm Lock's popular Trilogy T2 keyless cylindrical lock, the standalone DL4100 uses a modified ANSI cylindrical door prep, for easy installation in about an hour, and can be used in any application large or small, from businesses & hospitals, to retail stores & universities. Supporting up to 2000 individual user codes (including management and master code overrides), the DL4100 has a unique privacy feature, activated with the push of a button on the back of the lock (inner door, adjacent to the battery compartment). Once the privacy button is depressed, the lock cannot be opened from the front entry side for a preprogrammed duration, which makes the product ideal for bathrooms, dressing or fitting rooms, and more. To indicate that the "room" inside is occupied, and the lock is in Privacy Mode, the DL4100's red LED, on the front keypad side of the door, will flash. When exiting the room, the occupant would simply rotate the handle and leave as they would normally. The lock will use a 3-second delay following the release of the lever switch, before it will accept an additional signal from the push button to re-enable the Privacy feature, eliminating the inadvertent reactivation of the Privacy Lock-out when the user exits Furthermore, the Lock also comes supplied with iconic signage indicating operation. The Trilogy DL4100 also features an optional programmable "Residency" feature that allows users to close the door behind them and have the lock remain unlocked until it is physically relocked w/PIN or PROX device. The exit passage mode is ultimately convenient for those needing to make several trips in and out of the room or building. The DL4100 comes in several architectural finishes, and IC core preps, and includes a 500 event schedule and a 40,000 event audit trail (complies with HIPPA). It is also available in the PROX version (PDL4100) for Prox ID cards and/or PIN code entry. For more information on the Trilogy DL4100 or any of the Alarm Lock Family of leading access and egress solutions, contact your Alarm Lock Sales Rep, or Alarm Lock Customer Service at 1-800-ALA-LOCK. Alarm Lock Systems...Protection Anywhere, Reliability Everywhere
More from Electronic Components & Devices