Electroforming Cold Shields with Laser Black for High Performance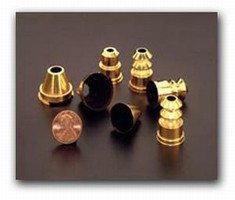 Epner Technology is a leading plating and coating service. Precious metal plating and gold plating to NIST reflectance standards is Epner's specialty. With over 90 years of electro and electroless plating experience Epner announces expanded capabilities to also include electroforming of cold shields.

Thin wall Cold Shields use ETI's electroforming Laser Black and Laser Gold's performance to create a Cold Shield with ultra-low thermal mass and an interior that, thanks to Laser Black, "swallows light". The OD is polished Laser Gold for extremely low emissivity. Electroformed "cold shields" or radiation shields have IR focal plane array sensor systems, Laser Black interior.

Electroforming is the process of fabricating a part from the plating itself. A shaped mandrel is plated long enough to build up a "stand alone" thickness. The mandrel is then removed by melting, chemically etching or exploiting differences in thermal coefficients of expansion between the electroformed part and the mandrel.

The leader in plating for expanded marketplaces that include aerospace, medical, R & D, electronic and IR (Infrared) optical markets. Epner's laser gold plating reaches reflectivity of >99% @ 10 microns and >98% at 1 micron. Silver plating is plated to QQ-5365D, Aston, AMS and aerospace specs. High Q silver has a tarnish resistant proprietary deposit designed for microwave cavities and filters. Palladium to MIL-P 45209B and ASTM-B-679K specifications. Precious metals are engineered and applied over metal substrates such as Aluminum, Nickel, Copper, Titanium, Kovar and other exotic alloys as well as non metallic substrates such as plastics, ceramics and glass. "Six Sigma" quality is the standard goal for all challenges. Epner's optical coating and plating is ISO 9001:2000 certified. Epner offers complete turnkey fabrication capabilities.

Call David Epner today for Engineering support and Technical assistance for all your coating or plating application requirements. Visit our website at www.epner.com or call toll free 1-800-823-7637 for the most knowledgeable advice in the metals finishing industry.

More from Packaging Products & Equipment