Electrochemistry Lab Systems integrate graphical touchscreen.
Press Release Summary: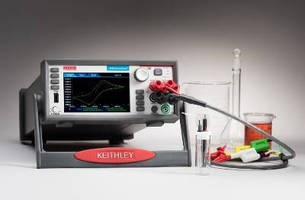 Featuring 5 in. touchscreen display offering gestural pinch and zoom functionality, 2450-EC and 2460-EC let users run experiments, make measurements, and generate voltammogram plot results. Both 4-quadrant instruments, which can source and sink power, can source and measure voltage or current and be used to compare results to parameters for voltammetry experiments or over time for chronoamperometry experiments. Portable units also offer modifiable library of electrochemistry test scripts.
---
Original Press Release:

Tektronix Unveils Cost-Effective, Versatile Electrochemistry Lab Systems



New Solution Lowers Instrumentation Costs;



Makes Running Lab Experiments Faster, Easier



BEAVERTON, Ore. – Tektronix, Inc., a leading worldwide provider of test, measurement and monitoring instrumentation, today announced the industry's first graphical touchscreen Electrochemistry Lab Systems, the 2450-EC and 2460-EC. These new Keithley interactive solutions offer a lower cost, more flexible, and easier method for conducting a range of electrochemistry experiments, including cyclic voltammetry, chronoamperometry, and chronopotentiometry. For more information, go to: http://www.tek.com/electrochemistry-lab-systems.



The traditional approach to electrochemistry testing involves potentiostat instrumentation and vendor-supplied software that is typically not customizable. The Keithley solutions bring a number of advantages, including a lower purchase price and cost of ownership, customizable software, and simple operation with the ability to run experiments, make measurements, and generate voltammogram plot results directly on the instruments' touchscreen display. With gestural 'pinch and zoom' on the graphical display, users can quickly analyze the results and make quick research and design decisions. Potentiostats lack front panel controls and require a separate PC to set up and run experiments.



"Students, professors, and researchers are influenced by the user interfaces used on their smart phones and expect the same from their instrumentation," said Mike Flaherty, general manager, Keithley product line at Tektronix. "The 2450-EC and 2460-EC embrace these concepts to bring exceptional ease of use to electrochemistry, minimizing the instrument learning curve, and enabling customers to learn faster, work smarter, and invent easier."



Versatile and Flexible 

Electrochemists, chemists, and other scientists use electrical measurement techniques to study chemical reactions and dynamics. Keithley's Electrochemistry Lab Systems are versatile instruments that can source and measure voltage or current and can be used to compare results to parameters for voltammetry experiments or over time for chronoamperometry experiments. These instruments are 4-quadrant instruments that can both source power and sink power. Typical potentiostats are 2-quadrant, which limits their use as a general purpose instrument beyond electrochemistry applications. In contrast the 2450-EC and 2460-EC can be repurposed as a general use lab tool for such applications as I-V testing, leakage testing, and battery charge/discharge profiling.



Chemistry and electrochemistry researchers are pushing the limits of what's possible with the pre-programmed, non-modifiable tests furnished with most potentiostats. In contrast, the 2450-EC and 2460-EC provide nearly limitless flexibility through the use of an embedded open-source Test Script Processor (TSP®) system that enables researchers to create their own library of electrochemistry test scripts that can be modified as tests and measurements evolve.



The 2450-EC and 2460-EC are housed in a compact package that enables easy transport around a lab, without the need for a cart to transport a much larger potentiostat and computer. The 2450-EC can source and measure up to 200V or 1 amp, with source/sink power up to 22 watts; the 2460-EC can source and measure up to 100V or 7amp, with source/sink power up to 100 watts. These instruments offer excellent measurement sensitivity - as low as 10nV and 10fA, source and measure ranges as low as 20mV and 10nA, and 0.012% basic measurement accuracy with 6.5 digit resolution. Each instrument features a high-resolution five inch touchscreen display for intuitive usage and minimized learning curve.



Availability

The 2450-EC and 2460-EC are available now for order in the US, Japan, and EMEA countries from Tektronix or an authorized distributor. Introductory pricing starts at $6,900 US MSRP.



Wondering what else Tektronix is up to? Check out the Tektronix Bandwidth Banter blog and stay up to date on the latest news from Tektronix on Twitter and Facebook.



About Tektronix

Headquartered in Beaverton, Oregon, Tektronix delivers innovative, precise and easy-to-operate test, measurement and monitoring solutions that solve problems, unlock insights and drive discovery. Tektronix has been at the forefront of the digital age for over 65 years. Join us on the journey of innovation at www.tektronix.com. In 2010, Keithley Instruments joined Tektronix as part of its test and measurement portfolio.



Tektronix is a registered trademark of Tektronix, Inc. All other trade names referenced are the service marks, trademarks or registered trademarks of their respective companies.



CONTACT:

Amy Higgins

PR Manager

Tektronix 

ahiggins@tektronix.com

503.627.6497



Web Site: http://www.tektronix.com

More from Cleaning Products & Equipment