Electro-Matic Visual Gives Roosters Wings Something to Crow About with New Full Color LED Display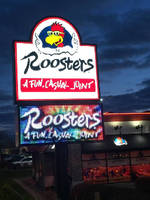 Honesty, integrity, dependability and personality are the cornerstones to the foundation of Roosters business. So, when looking for a dependable, LED Display, they looked no further than Electro-Matic Visual. People often determine where they are going to eat on impulse. This new, two-sided, American made, full-color LED sign allows the Zanesville location to display eye-catching, powerful dynamic messages that will grab the attention of those going by. This reliable, affordable, small carbon footprint, easy to maintain and use display provides the Roosters of Zanesville with the ideal competitive advantage.



With the addition of this new two-sided full color LED Display, Roosters Wings does not only have the capability to advertise current specials, with full color text and animations; they can also promote their value-added services like their Roosters Road Show catering service. The HyperionPlus™ provides an enhanced viewing angle and colors that will make this sign impossible to miss.



Restaurants that have invested in an outdoor LED Display have found an increase in business up to 150% according to studies conducted by the Small Business Association. Electro-Matic Visual Solutions' high quality LED signs are designed to increase the visibility of this location and connect with their customers.



"John and the folks over at Tubelite have been instrumental in introducing Electro-Matic Visual's products and services to new market places," said James Baker, Commercial Sales Manager at Electro-Matic Visual, Inc. "We want to thank them."



Not only does Electro-Matic Visual provide outstanding displays, it also comes with superb customer service and support: The 5-year parts and labor warranty and direct technical support that is available 24 hours a day, 7 days a week, 365 days a year results in little downtime for your HyperionPlus™ and comfort with your investment.



"Whether it's working with us at Tubelite, the sign companies, supporting the installation or training the end-user, Electro-Matic Visual has exceeded my expectations," said John Burns of Tubelite.



In working with Electro-Matic Visual, Tubelite, and All Star Signs, this full color LED Display receives the best service and support available.



More from Mechanical Power Transmission