Electrical Motion Welding System is available in 20 kHz and 35 kHz frequencies.
Press Release Summary: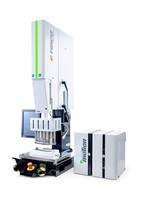 Electrical Motion Welding System comes with PC with 12 in. adjustable touchscreen. Unit offers time, energy, and collapse distance to absolute distance, energy and time, energy or time, contact cut off, and melting rate operating modes. This system can be operated using graphic user interface of the software and works on Linux Ubuntu operating system.
---
Original Press Release:
Rinco Ultrasonics to Launch New Electrical Motion Series Welding System at NPE2018
Rinco Ultrasonics USA, a leading manufacturer of ultrasonic welding equipment, will launch its new Electrical Motion ultrasonic welding machine at NPE2018 May 7-11 at the Orlando County Convention Center in Orlando, Fla. (Booth #W5373). The new machine, available in 20 kHz and 35 kHz frequencies, represents a move away from traditional pneumatic type press systems to electrically driven machines, according to Gordon Hull, managing director of Rinco Ultrasonics.
"This is a high-value addition to our product line," said Hull. "It helps push the limits of what our customers can achieve in weld quality and repeatability."
The Electrical Motion welding system enables users to finely regulate the weld, using precise positioning of the horn, along with the applied welding force to the welding rate. This means considerably better results in welding, punching, cutting, and sealing of molded thermoplastic parts, nonwovens, and synthetic textiles. Another key feature of the Electrical Motion welding system is a high-performance, industry-type PC that can be easily operated via a 12-inch adjustable touchscreen, with the welding process triggered through an ergonomically designed two-hand operation.
The Electrical Motion Series is a next-generation product based on the company's Dynamic 3000 ultrasonic welding machine (also with a working frequency of 20 kHz and 35 kHz) which was designed for technically demanding welding operations for medium to large-sized thermoplastic parts.
Unlike the compressed air-driven design, in which the feed for the horn returns after every weld cycle to the mechanical home position in the pneumatic cylinder, the starting position with the Electrical Motion can be selected freely to any programmed position. As a result, the weld cycle can often be shortened, depending on the welded object's geometry.
The Electrical Motion unit provides eight different welding modes from time, energy, and collapse distance to absolute distance, energy and time, energy or time, contact cut off, and melting rate. For all welding modes, the operator can adjust the ultrasonic trigger for force, distance, and time. Depending on the welding mode, the actual process can be subdivided into as many as 10 steps, a level of detail which delivers a more controlled welding process than with a pneumatic drive, according to Hull. Even parts that were previously almost impossible or very difficult to weld can now be joined reliably with a reproducible and uniform weld using Electrical Motion. The converter and booster are identical in construction to the pneumatic Dynamic 3000 series, so tooling already made for this machine can also be used with the new Electrical Motion.
The Electrical Motion system is operated using the graphic user interface of the software, whereby an individual user account with the relevant authorizations can be set up for each level of the employee hierarchy. The Linux Ubuntu operating system is logically structured, self-explanatory, and easy to use, enabling operators and maintenance personnel easy access, according to Hull.
Weld characteristics are shown clearly in the form of graphs on the Thin Film Transistor Liquid Crystal Display (TFT-LCD) monitor, and the results and parameter datasets can be exported on a data carrier. The system records and stores all results, including parameter changes, providing a non-erasable audit trail accessible only to authorized personnel. "This is a great selling point and key feature that many customers want in assembly machinery," said Hull.
It's important to know if a change in parameters results in a weld failure, according to Hull. The traceability feature allows maintenance staff or Rinco personnel to determine if any changes result in any issues with the final product. "The audit trail will help produce a more repeatable part that will also conform to pre-determined process parameter windows," said Hull.
Traceability also helps provide quick diagnosis of any problems. A Rinco technician, with the help of remote maintenance using an internet connection, can quickly identify any issues and, in most cases, directly correct any parameter errors immediately reducing valuable downtime.
About Rinco Ultrasonics
Rinco Ultrasonics USA (www.rincoultrasonics-usa.com), headquartered in Danbury, Conn., has been a specialist in the design and manufacture of ultrasonic welding machines and ultrasonic cutting equipment since its founding in 1976. Rinco products are used for the reliable welding of plastic components and for the cutting of foodstuffs and synthetic textiles. With its many years of expertise in the development of innovative solutions and consulting in the field of application technology, Rinco is an acknowledged and reliable partner to many companies in automotive, medical technology, textile and food processing, packaging, electrical engineering, plant and machinery construction, telecommunications, and household and leisure. The company has been a member of the internationally active Crest Group which includes sister companies Forward Technology, Cokato, Minn., KLN Ultraschall AG, Heppenheim Germany, and Mecasonic, based in France. Rinco, with its own branches and representatives in over 40 countries around the globe, offers outstanding proximity to the customer.
More from Material Handling & Storage