Electrical Contacts are etched from beryllium copper.
Press Release Summary: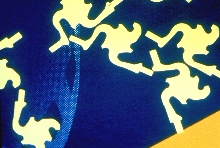 Photochemically-etched contacts are designed for integrated circuit manufacturing. Thicknesses range from 0.0005 to 0.090 in. Beryllium copper is suitable for products requiring hardness, strength, self-lubrication, and good thermal and electrical conductivity. It is also beneficial in spring applications that result in high usage or high stress to parts.
---
Original Press Release:
Photochemically-Etched Beryllium Copper Electrical Contacts Meet Exacting Electrical And Thermal Conductivity Requirements

PHOTOFABRICATION ENGINEERING, INC. (PEI), Milford, MA, is now manufacturing a line of photochemically-etched electrical contacts made of beryllium copper for integrated circuit manufacturing. These contacts are used in a wide range of applications including printed circuit board connectors, appliances, and lead frames for the automotive, aerospace, medical, electrical/electronic, and microwave industries. PEI also provides electrical contacts in other materials including copper and brass, with tin, nickel, and nickel-gold plating.

Because of the unique benefits of beryllium copper, it is particularly suitable for products requiring exceptional hardness, strength, self-lubrication, and good thermal and electrical conductivity. It is especially beneficial in spring applications that result in high usage or high stress to the parts. Yet most manufacturers cannot or will not handle beryllium copper due to the serious health hazards posed by
beryllia dust.

PEI's process for etching beryllium copper parts is safer than any other manufacturing process (including stamping, machining or cutting). Since photochemical etching provides greater tolerance control for elaborate parts, PEI can provide even the most intricately-shaped electrical contacts at a competitive price and with short delivery leadtimes. PEI can etch beryllium copper in thicknesses from 0.0005 in. to 0.090 in. (0.0 127 mm to 2.286 mm),.

With one of the most extensive photo-etching plants in the world, PEI offers OEMs a complete turnkey operation. We also provide a wide variety of finishing processes, including forming and heat-treating. Our manufacturing process has achieved ISO-9002 certification and complies with most customer and
military standards.

For more information, contact PHOTOFABRICATION ENGINEERING, INC., 500 Fortune Boulevard, Milford, MA 01757; telephone (508) 478-2025: FAX (508) 478-3582; e-mail us at pei@photofabrication.com, or visit our Web site, www.photofabrication.com.

(This press release was prepared by Judy Grande, Grande Marketing
Communications, 978-486-1090. Photos are available on disc or by
e-mail; please contact Judy at jgrande760(aol.com.)
Related