Electric Walkie Pallet Truck is compact and maneuverable.
Press Release Summary: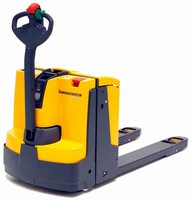 Suited for loading/unloading trailers or transporting loads, EJE 120 has 58.7 in. turning radius and 4,500 lb capacity. Head length of 19.4 in., combined with ability to operate with handle in vertical position, allows for pin-wheeling in truck trailer. Features include rounded fork tip design; hardened, bulldozer-grade steel pallet entry slides; and steel exit rollers. Powered by 24 V, 150 Ah battery, truck comes with integrated charger and 24 V, 3-phase ac drive motor/controller.
---
Original Press Release:

Jungheinrich Introduces A Highly Compact, Easy-to-Maneuver EJE 120 Electric Walkie Pallet Truck



RICHMOND, VA - Jungheinrich Lift Truck Corp. has announced the introduction of their newly re-designed 4,500 lb. capacity electric walkie truck, the EJE 120, which is well suited to the task of loading and unloading trailers, as well as for the transportation of loads over short and medium distances. Built especially for the U.S. market and designed to outperform all other electric walkies, the EJE 120 provides users with the best turning radius available at 58.7 inches (short compartment version), a 24V-150Ah industrial battery with integrated charger, Jungheinrich's propriety AC drive motor and controller technology, a superior fork tip design, and (as optional equipment) the Pro-Trac-Link high-performance stability caster system.

A particularly short head length of 19.4 inches combined with the truck's ability to operate with the handle in the vertical, or upright, position allows for effortless "pin-wheeling" within a truck trailer. In addition, a shorter overall length simplifies the positioning of a load on a lift gate when exiting the trailer.

The EJE's rounded fork tip design and hardened, bulldozer-grade steel pallet entry slides ease pallet entry, while steel exit rollers ensure a smooth pallet exit.

The truck's short head length is achieved in conjunction with an extremely compact battery compartment of only 7.19 inches which houses an industrial battery. A 30A, chassis mounted, integrated battery charger completes the EJE's unique "all in one" package. The single, 24V-150AH industrial battery's expected service life is up to two times longer than comparable 4-6V based battery/charger packs.

Featuring the 4,500 lb. electric walkie market's only 24V, 3-phase AC drive motor, the EJE 120 ensures optimal energy management, while offering the benefits of longer operating times, powerful acceleration and a maximum fully loaded speed of 3.7 mph. When these two technological advantages are considered together, they translate to more pallets moved per hour than any comparable 4,500 lb. walkie available today. And since the EJE 120's AC drive system is free of carbon brushes and directional contactors, it is virtually maintenance free. AC drive also enables the EJE 120 to respond smoothly and quickly to the operator's commands. Smooth transitions from forward to reverse can increase the work output of the truck significantly over a full eight hour shift.

The EJE's new control handle concept is a breakthrough in ergonomic design. Raise and lower functions on both sides of the handle operate on a single, distinct rocker switch that can be activated from almost any operating position. The design proves particularly beneficial for operators using the truck in confined spaces with the handle in the fully upright position, allowing for raise and lower functions from the rear or underside of the handle. In addition, the sealed switches are rated at IP65 for maximum moisture resistance and can withstand direct, high pressure water blasts during wash down. Additional handle features include a brake-bypass switch or crawl speed button for travel in confined spaces with the handle in the fully upright position at a reduced speed and limited-arc directional switches that shorten necessary hand movement.

Safe travel is ensured with Jungheinrich's electronic Speed Control system which allows stepless speed control, even on gradients. On ramps, the vehicle automatically brakes to prevent rollback.

Additional features of the EJE 120 include standard metal stability bars that limit the truck's tipping during quick maneuvers and for the ultimate in stability, Jungheinrich's Pro-Trac-Link stability caster system that links two load bearing casters via a torsion bar. Standard safety features include a low mounted control handle which maximizes the distance between the truck and the operator and a large, "instant reaction" emergency disconnect switch.

The EJE also offers three different battery compartments and a variety of battery options to meet almost any customer application.

For more information about the EJE 120 Electric Walkie Pallet Truck, contact Jungheinrich Lift Truck Corp., 5601 Eastport Boulevard, Richmond, VA 23231. Call 804-737-7400. Fax: 804-737-7467. Or, visit the website at www.jungheinrich-us.com.

More from Machinery & Machining Tools