Electric Walk-Behind Tug ergonomically hauls heavy loads.
Press Release Summary: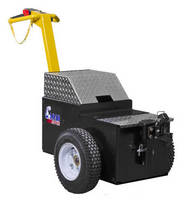 With 20,000 lb max capacity, ergonomic ASD electric walkie tug reduces effort, strain, and chance of injury for workers moving heavy/unwieldy loads in manufacturing or warehouse environment. Wheeled cart and trailer mover, constructed of formed ¼ in. steel plate, offers traction capabilities via internal weight package. Able to run all day on one charge, tug can maneuver in tight spaces and offers variable speed control, adjustable handle, and foam filled tires as standard features.
---
Original Press Release:
Electric Tug Does the Work of Four People
Fairfield CT.  – American Sales Development LLC.  (ASD) announces the ergonomic ASD electric walkie tug that reduces the effort, strain and chance of injury when moving heavy or unwieldy loads in a manufacturing or warehouse environment.  With a capacity of up to 20,000lbs, on wheeled carts or trailers, the unit easily and safely replaces the effort of four persons, or up to 8 persons, with one electric tug.

ASD's Tug is an electrically powered, walk behind, wheeled cart and trailer mover constructed of formed 1/4" steel plate. The unit has an internal weight package to add traction capabilities. Additional traction is gained by slightly elevating the hitch mechanism, either manually by pushing down on the handle or with an optional electric drive 5th wheel to add some of the weight of the load to the Tug's drive wheels. With a 36v DC power circuit, heavy duty deep cell batteries and on-board, 5-stage battery charger, the unit can run all day on a single charge.

The ASD Tug is ideal for companies developing fork free environments or using lean material flow processes. The unit can easily haul trains of carts from market areas to line-side assembly areas with effortless movement and great maneuverability in tight spaces. Additional applications are auto shops, food processing, transporting metal stock, paper or textile rolls, rigging, heavy-manufacturing of machine tools, aircraft, boats, trailers, vehicles, or granite tables.

Ergonomically the ASD Tug outperforms other material handling methods in ease of use, maneuverability, improved control and greater visibility. The unit's adjustable ergonomic handle fits any size operator and promotes a comfortable walking posture.  No training, licensing or certifications are required and the intuitive controls greatly reduce the operator's learning curve. Productivity improvements are immediate.

The standard receiver unit accommodates many types of hitch attachments. Among these are a 5th wheel hook, pintle hitch, ball hitch, tongue and pin hitch, paper roller, push pad and custom attachments if needed. The ASD Tug has many standard features that are optional with others. These include variable   speed control, horn, high and low speed, belly switch, adjustable handle, on-board battery charger, attachment receiver, foam filled tires, key switch, neutral throttle brake and a  traction weight package.

Established in 2006, American Sales Development LLC. (ASD,) offers industry and consumers products to lift, move and control safely and ergonomically. ASD ergonomic products save time and money by reducing fatigue and injury in situations in which repetitive motions, heavy loads and static work positions exist. Whether you are responsible for your company's ergonomic and health and safety initiatives or considering a lean material flow process, fork-free environment for the workplace or just seeking out a better way to perform your job or hobby, ASD can assist.

About the Author:
Keane Eye Consulting principal Edward Keane has a 25 + year sales and marketing background in industrial manufacturing and distribution in both the OEM and MRO areas worldwide, in the motion control, industrial automation, ergonomics, power transmission and materials handling fields. ASD represents and distributes industrial ergonomic products. The Keane Eye Consulting division of ASD offers sales and marketing consulting services including marketing plans, public relations, marketing literature, training materials, and related services to enable manufacturers to focus their message and to improve their image and visibility among their prospects and customers.
More from Electrical Equipment & Systems