Electric Tugs move wheeled loads up to 1,400 kg.
Press Release Summary: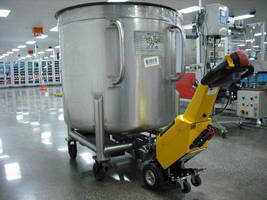 SmartMover Plus, SM60 Plus model offers maximum towing capacity of 1,000 kg, while SM100 Plus can tow loads of up to 1,400 kg. Both pedestrian-operated tugs operate on uneven surfaces and slopes and can turn through 90°. Forward and reverse controls help with steering and units include height adjustable headset with throttle paddle and twin speed button to cap speed. Devices can be steered on either side and incorporate anticrush button and electromagnetic brake for safety.
---
Original Press Release:

New Electric-Operated Tug Safely Moves Wheeled Loads up to 1,400kg



Already popular with retailers and the healthcare sector, a compact, electric-operated pedestrian tug has now been improved for industrial use, providing safer, more flexible handling of wheeled loads and improved productivity.

Building on its success in the retail and supermarket sectors, a UK-based manufacturer of electric-powered handling equipment has now launched an improved version of its pedestrian-operated tug to industrial sectors.

The new, innovative SmartMover Plus range of pedestrian-operated tugs from MasterMover Ltd is a compact, electric-powered handling device that enables one person to move wheeled loads of up to 1,400kg. The product is not much larger than a conventional domestic upright vacuum cleaner but is capable of pushing or pulling any type of wheeled load, including trolleys of components, mixing bowls and roll cages.

After several years of intensive research and development, the SmartMover Plus is now available in two industrial models: the SM60 Plus and the SM100 Plus. The SM60 Plus has a maximum towing capacity of 1,000kg, whereas the SM100 Plus can tow loads of up to 1,400kg.

Andy Owen, Managing Director at MasterMover Ltd comments: "Originally, SmartMover was designed to help supermarkets unload roll cages from the tail lifts of loaded wagons, then move these cages safely around the warehouse and store. To date, we've supplied more than 500 units into the retail and healthcare sectors. However, we recognised that industrial firms could also benefit from using a similar device for moving relatively light wheeled loads of between 100kg and 1,500kg. In this range, there isn't a great deal of choice when it comes to sourcing suitable handling equipment. This usually means having to use either a forklift to move the load, which is inefficient, or people, which can be unsafe as well as time-consuming."

SmartMover Plus enables the rapid, easy handling of wheeled loads, particularly in confined spaces. The machine operates on uneven surfaces, slopes and can turn through 90 degrees. As Owen puts it: "Basically, where the load is relatively light and where manoeuvrability, safety and control are critical, SmartMover Plus can add genuine value to a business. It can ensure the timely delivery of components to a production line, for example, or it can eliminate the need for time-consuming, manual handling."

SmartMover Plus connects to the base of the wheeled load via a clamping mechanism, which is operated by using a simple lever located on the neck of the device. Once connected, the machine is secured to the load and the operator can use the 'forward' and 'reverse' controls. "In addition to all the features on the original SmartMover, the new industrial version has a height adjustable headset, increased battery power and greater towing capacity," adds Owen.

The SmartMover Plus is extremely easy-to-use. A simple throttle paddle on the headset enables the user to constantly vary the speed according to the conditions. There is also a twin speed button that enables the operator to place a cap on the speed, which is useful for busy manufacturing environments. Amongst other built-in safety features is an anti-crush button that ensures that the user cannot become trapped between the machine and an immoveable object. The device has an electro-magnetic brake, which is constantly engaged until the operator applies power via the throttle. The unit can be steered on either side, enabling easy turning in tight spaces. When off load, the device travels on the support wheels for maximum operator comfort. In addition, the tyres are puncture-proof.

SmartMover Plus can help industrial companies improve the flow of materials around the warehouse or factory floor, particularly where space is at a premium. Manual handling is eliminated and so any lift-, pull- or push-related injuries are reduced. The device is also very effective in supporting new Lean Manufacturing, Just-In-Time (JIT) or Kanban operations.

For more information on the SmartMover Plus or to arrange a free product demonstration, please telephone the sales department on 01335 347 700 or email info@mastermover.com

About MasterMover® Ltd:

MasterMover® is a leading manufacturer of pedestrian electric tugs and is widely recognised as a market leader in providing solutions for moving wheeled loads from 50kg up to 100,000kg. Established in 1995, the company has provided handling solutions to some of the biggest brand names in industry, both nationally and globally. Today, MasterMover® has a portfolio that spans 27 models, all designed to safely and efficiently transport wheeled loads. Deployed across the world, MasterMover® products are used by a diverse range of industry sectors in the UK, Mainland Europe, Asia, Australia, the US and South America. Based in Ashbourne, Derbyshire, MasterMover® is committed to design and manufacturing and employs skilled people, many of whom live locally.

MasterMover® Ltd contact information:

Hugh Freer,

Sales & Marketing Manager,

MasterMover® Ltd

Airfield Industrial Estate,

Moor Farm Road,

Ashbourne, Derbyshire

DE6 1HD

T: +44 (0) 1335 347700

F: +44 (0) 1335 347711

E: info@mastermover.com

W: www.mastermover.com