Electric Tug minimizes chance of push/pull injuries.
Press Release Summary: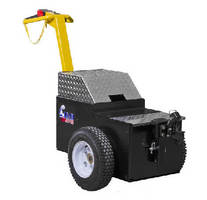 Featuring battery-powered, walk-behind design, Xtra-400 Load Mover is suitable for pushing/pulling industrial carts that weigh up to 20,000 lb, or train of carts that moves components through production facility. Unit is constructed of formed ¼ in. steel plate with maintenance-free sealed transaxle. Gearbox, electric motor, and electromechanical brake are one assembly. With handle in up position, overall length is 48 in. Width including drive wheels is 30 in. to fit through doorways/walkways.
---
Original Press Release:

Heavy Equipment Mover Pays for Itself



Bloomington MN. - Load Mover Inc. announces the ergonomic Xtra-400 model electric tug that reduces the chance of push/pull injuries and the medical claims, higher insurance premiums and employees' lost time costs  that can result. Pushing and pulling are described by the National Institute for Occupational Safety and Health as 2 of the 5 main repetitive movements that lead to long-term injury. The Bureau of Labor Statistics recently reported that the median days away from work—a key measure of severity of injuries and illnesses—was 8 days, laborers and freight, stock, and material movers had the highest number of days-away-from-work injuries and illnesses in 2010. Pete Nelson, Load Mover's Engineering Manager explains, "The direct and indirect costs of a single lost time accident can easily exceed the cost of a Load Mover tug making the decision to incorporate electric tugs into the manufacturing and or warehouse environment an easy one to justify." Load Mover Inc. tugs can be an integral part of a fork-free manufacturing environment further adding to a safer workplace. Moving material safely is a concern in any production environment. A Load Mover electric tug can safely and efficiently replace traditional methods of moving and their negative consequences.



Overview

A Load Mover is a self-contained, battery powered, walk-behind power mover that aids production personnel in moving heavy parts and equipment in an industrial environment. It is a tool used to offset the physical strain that is felt by an operator in pushing or pulling loads that personnel experience in a work place environment. Load Mover Inc.'s most popular model, the Xtra-400, is the ideal push/pull device for industrial carts that weigh up to 20,000 lbs. or a train of carts that move components through a production facility. Carts can be pushed or pulled with a variety of attachments installed into the receiver located at the front end of the unit. A single operator can move heavy product with minimal effort, safely and efficiently all day long.



The Load Mover excels ergonomically compared to other material handling methods in ease of use, maneuverability, improved control and greater visibility. The unit's adjustable ergonomic handle fits any size operator and promotes a comfortable walking posture.  No training, licensing or certifications are required and the intuitive controls greatly reduce the operator's learning curve. Productivity improvements are immediate.



Construction

The Xtra-400 Load Mover is constructed of formed 1/4" steel plate and includes a self-contained, maintenance free, sealed transaxle. The gearbox, electric motor and electromechanical brake are one assembly instead of loose parts. With the handle in the up position the overall length is 48". Width including the drive wheels is 30" to go through doorways and tight manufacturing walkways. The Xtra-400 has an internal weight package to add traction capabilities with a "Draw-bar-pull" capability of 400 lbs. or capacity of up to 20,000 lbs., on wheeled carts or trailers.  With a 36v DC power circuit, heavy duty batteries and on-board, 5-stage battery charger, the unit can run all day on a single charge. The ergonomic handle is height adjustable to accommodate operators of differing heights and includes a high and low variable speed control, horn and belly switch.



Applications

Typical applications include moving heavy materials from receiving to processing or assembly areas in a wide variety of industries. Load Movers are also used extensively in transporting metal stock, paper or textile rolls, rigging, heavy-manufacturing of machine tools, aircraft, boats, trailers, vehicles, building materials, or granite tables. Load Movers are appropriate anywhere that heavy materials on wheeled carts need to be transported safely and efficiently.



Features

The Load Mover includes many standard features. Among these are variable speed control, a programmable controller for precise control of your specific needs, horn, high and low speed controls, belly switch, adjustable handle, on-board battery charger, attachment receiver, foam filled tires, key switch, neutral throttle brake and a traction weight package. The standard receiver unit accommodates many types of hitch attachments. Among these are a 5th wheel hook, pintle hitch, ball hitch, tongue and pin hitch, paper roller, push pad and custom attachments if needed. Additional traction is gained by engaging the electric 5th Wheel to transfer the weight of the load to the Load Mover's drive wheels. Additional weight, and therefore increased traction, can be induced by the operator adding downward weight onto the handle assembly.  The Load Mover maximizes all added weight and uses it to give maximum traction to the drive tires.



About the Manufacturer

Load Mover Inc. based in Bloomington MN, is a designer and manufacturer of battery powered material handling equipment that is used in industrial environments. Each Load Mover was designed to be Safer, Smarter, and Stronger, than other "Powered Tugs" in the market. Safety features are "Standard" and not options. A "Smarter" design makes it easier for the operator to move the load. The "Push/Pull" ability of the Load Mover allows the operator to do more work with less effort. Production personnel can work all day with less energy exerted which can increase job satisfaction and employee retention.



About the Author

American Sales Development LLC principal Edward Keane has a 25 + year sales and marketing background in industrial manufacturing and distribution in both the OEM and MRO areas worldwide, in the motion control, industrial automation, ergonomics, power transmission and materials handling fields. ASD represents and distributes industrial ergonomic products. The Keane Eye Consulting division of ASD offers sales and marketing consulting services including marketing plans, public relations, marketing literature, training materials, and related services to enable manufacturers to focus their message and to improve their image and visibility among their prospects and customers.

More from Fasteners & Hardware