Electric Tape Feeders offer continuous splice capability.
Press Release Summary: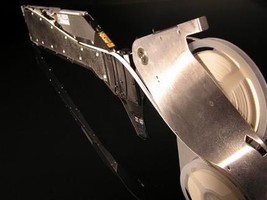 Supporting requirements of high-speed chip placement, 0201-capable 8 mm Gold dual-lane feeders offer PSV reel detection sensor that enhances traceability for absolute line control. Single lane Black 8 mm and 12 mm electric feeders, designed for medium to low-volume midrange applications, ensure traceability with unique feeder ID. All feeders are compatible with Lightning rotary-motion surface-mount component placement head.
---
Original Press Release:

Universal Expands Feeder Line-up with New Additions



Universal has extended its comprehensive feeder range with the introduction of two new feeder families. The Gold dual-lane and Black midrange electric tape feeders are designed to deliver significant throughput and value gains for Universal's diverse customer base.

Joining Universal's high performance Gold feeder range, the feature-rich functionality of the new dual-lane feeders builds on the success of this collection to deliver exceptional presentation of paper and embossed-packaged components. Supporting the requirements of high-speed chip placement, the 0201-capable 8mm Gold dual-lane feeders are 100% compatible with Universal's Lightning rotary-motion surface-mount component placement head. In addition, continuous splice capability considerably improves line yield rates, boosting throughput by up to 30%, while a PSV reel detection sensor enhances traceability for absolute line control.

Universal has also launched a family of single lane Black 8mm and 12mm electric feeders designed for medium to low-volume midrange applications. The new Lightning-compatible Black feeders offer a robust alternative to traditional pneumatic feeders, ideally suited to deliver value-driven performance in conjunction with Universal's AdVantis platform. The new, spliceable midrange feeders share aspects of Gold functionality, guaranteeing repeatable part presentation with the precision drive train and ensuring traceability with a unique feeder ID.

"These additions to Universal's feeder portfolio significantly enhance our ability to respond to the demands of modern production environments," explains Universal Feeders Director, Mike Cyr. "Characterized by ease-of-use, low maintenance requirements and robustness, both the Gold dual lane and Black single-lane feeder families are optimized for reduced feeder interrupts and improved component delivery performance. The standard 0201 capability of the Gold dual-lane feeder makes it ideal for high-speed chip applications, establishing a new level of reliability and presentation accuracy. The inherent flexibility of the Universal feeder portfolio is further extended by the new Black feeders which present midrange manufacturers with superior, value-driven performance."

Universal Instruments is a global electronics productivity specialist, providing innovative circuit, semiconductor, and back-end assembly technologies and equipment, integrated system solutions, and process expertise to manufacturers in every sector of the electronics industry.

Contact
Jeff Zopff
Universal Instruments
33 Broome Corporate Park
Conklin
NY 13748
USA
Tel : +1 (607) 779 5364
Email: Zopff@uic.com

www.uic.com


Related