Electric Screwdrivers feature built-in screw counter.
Press Release Summary: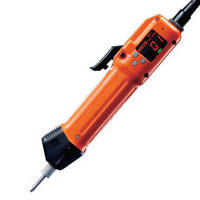 Designed to detect cross-threading, omissions, unfinished rundowns, and cycle incompletes, BLG-BC1 Series with built-in counter verifies that all fasteners have been installed and seated properly. Brushless electric screwdrivers provide precision torque control with automatic shut-off clutch once preset torque is achieved. Available in multiple models covering torque range of 0.9–17 lb-in., tools are suited for high production environments.
---
Original Press Release:

Mountz Offers New Electric Screwdrivers with a Built-in Screw Counter



Designed for detecting and eliminating costly screw-fastening errors



San Jose, Calif. — The new BLG-BC1 Series by Mountz, Inc. is an unique electric screwdriver, as it features a built-in screw counter. Most screw counting systems require an external device be connected to the electric torque screwdriver, however the BLG-BC1 assembly tool doesn't. This power tool verifies that all fasteners have been installed and seated properly.



Designed to detect cross-threading, omissions, unfinished rundowns and cycle incompletes, the BLG-BC1 electric screwdriver ensures the assembly process is done correctly the first time. The assembly tool provides precision torque control with an automatic shut-off clutch once the preset torque is achieved.



A screw counter helps manufacturers detect and eliminate costly screw-fastening errors during the assembly process. Using a screw counter is like putting the eyes and ears of a quality control manager where they are needed most – right in the assembly area.



Tightening hundreds and hundreds fasteners daily, assembly operators can forget to fasten some screws here or there during the monotonous routine. For complex fastening regimes with multiple screws on fast moving assembly lines, often fasteners may not always be installed and seated properly. These are common symptoms that plague many manufactures.



The BLG-BC1 tool is a brushless electric screwdriver designed for high production environments at an affordable price. The power tool features a high performance brushless motor design that provides durability and reduces the standard maintenance costs associated with other electric torque screwdrivers.



Screwdrivers with brushless motors have an extremely long operating life and provide consistent reliable performance. The screwdriver requires less maintenance with no need for replacement of expendable parts (carbon brushes, rotor, switches and other contact points). Mountz offers various models covering a torque range of 0.9 to 17 inch-pounds. The electric screwdriver features an automatic shut-off clutch once the preset torque is achieved, which ensures accuracy and precision torque control.



The goal of the screw counting process is to ensure that all fasteners are accounted for during the assembly process. Lapses in preventing fastening errors can affect the bottom line.  Further a fastening error is identified on the assembly line, the more it costs in rework time and expenses.



Using a quality screw counting electric screwdriver makes a safer world through accuracy and precision. Controlling torque is essential for companies to ensure their product's quality, safety and reliability isn't compromised. The failure of a three-cent fastener that isn't properly tightened can lead to catastrophic or latent failures. Fasteners that are insufficiently fastened can vibrate loose and excessive torque can strip threaded fasteners.



About Mountz, Inc.

San Jose, California based Mountz Inc. provides torque tool solutions and metric fasteners to a variety of industries like aerospace, automotive, electronics, energy, medical, packaging and more. Mountz has multiple global locations and hires and trains competent employees who are owners in our business. Making a safer world through accuracy and precision is the core purpose of Mountz, Inc. 



Since 1965, Mountz Inc. has proven its in-depth knowledge of torque and torque solutions by consistently developing, producing, marketing and servicing highly sophisticated, cutting-edge tools. Mountz Inc., known to industry as the nation's premier torque tool supplier, is an ISO 9001 registered and ISO 17025 accredited company. Mountz tools comply with ISO6789:2003 and are constructed from high quality materials, engineered for superior reliability and safety and backed by an industry leading warranty. Look for the Mountz hexagon logo – it's a stamp for quality tools, service and knowledge in the field of torque control.



For more information on  BLG-BC1 Series Brushless Electric Screwdriver

For more information about Mountz visit our website at www.mountztorque.com

For more on torque, including HOW TO, Videos and other useful resources visit Learning Center

Subscribe and follow the Mountz Blog     

Follow Mountz on Twitter: @mountztorque

More from Electrical Equipment & Systems