Electric Press Brake is available with 40 ton capacity rating.
Press Release Summary: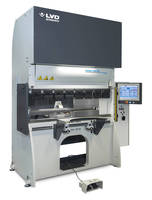 Designed to bend parts at speeds up to 59 ipm, Dyna-Press 40/15 Plus compact electric press brake features 60 in. working length, precision 4-axis back gauge, and TOUCH-B 15 in. touchscreen CNC control. Latter facilitates setup and 2D creation/3D simulation. Coupling of electric ram and servomotors via 2 heavy-duty ball screws distributes force and tonnage evenly across working length, and ergonomic design features front support table that lets operator work in seated or standing position.
---
Original Press Release:

LVD Strippit Adds New 40-Ton Electric Press Brake to Product Line



Akron, NY – LVD Strippit has expanded its Dyna-Press Series of compact, high-speed electric press brakes with the addition of the Dyna-Press 40/15 Plus, a new 40-ton model that offers a working length of 60" (1530mm) featuring a precision four-axis back gauge and LVD's exclusive TOUCH-B touch screen CNC control.



Like the other Dyna-Press models in LVD Strippit's product portfolio, the new Dyna-Press 40/15 Plus is designed to efficiently bend parts at high bending speeds of 59" per minute (25 mm/s), producing more parts per hour at a lower cost per part.  The coupling of the ram and servomotors is realized through two heavy-duty ball screws to distribute force and tonnage evenly across the working length. The electric ram offers smooth transition from approach to working speed and minimizes power consumption through the use of an optimal power to inertia motor ratio.



MORE BENDING FORCE & FLEXIBILITY

In addition to the fast acting ram and higher bending force, the newest Dyna-Press provides impressive production capabilities with extremely consistent repeatability and accuracy, as well as the flexibility to handle a broader range of parts through a precision four-axis back gauge.



FAST SETUP WITH TOUCH CONTROL

The TOUCH-B 15-inch touch screen control makes setup fast and efficient. The CNC control minimizes operator input and makes part programming easy and intuitive. With minimal input, the operator can create 2D and simulate in 3D on the 15-inch touch screen. The TOUCH-B control also offers network connection with CADMAN®-B programming software for added flexibility.



DESIGNED FOR ERGONOMICS

The Dyna-Press 40/15 Plus is ergonomically designed, a front support table gives the operator the option to work in a seated or standing position.



A VERSATILE CHOICE

LVD Strippit's new Dyna-Press 40/15 Plus joins the Dyna-Press 12/8, 24/12 and 24/12 Plus models. All Dyna-Press press brakes offer the flexibility of tooling choice. An extensive range of tooling styles are available for both punches and dies.



For more information, visit www.lvdgroup.com.



ABOUT LVD

The LVD Group is a leading manufacturer of a comprehensive range of sheet metal/plate working machine tools and software solutions, including laser cutting systems, punch presses, press brakes, guillotine shears and mid-level automation systems, integrated and supported by its CADMAN® PC-based Windows® compatible software.



For more information, contact Strippit, Inc. 12975 Clarence Center Road, Akron, NY 14001, USA. Tel. (716) 542-4511, Fax (716) 542-5957, e-mail: marketing@strippit.com  or www.lvdgroup.com.



FOR MORE INFORMATION, CONTACT:

Tony Marzullo, Product Manager, Press Brakes

Tel. 716-542-4511

Strippit, Inc.

E-mail: tmarzullo@strippit.com