Electric On-Off Level Controller targets production systems.
Press Release Summary: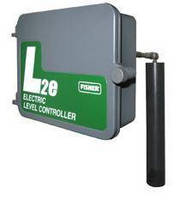 Combining knife-edge sensing design with aerospace quality switch technology, Fisher® L2e uses force-balanced displacer sensor to detect level of single liquid or interface of 2 liquids. Fully electric level control loop, consisting of L2e level controller used in conjunction with Fisher easy-Drive™ electric actuator powered D3 or D4 control valve, helps to eliminate emissions. In addition, zero and span adjustments enable tuning for variety of level loop applications.
---
Original Press Release:

Emerson Introduces Electric on-Off Level Controller for Production and Processing Applications



Fisher® L2e level controller helps increase reliability and accuracy in level applications



MARSHALLTOWN, IOWA -- The Fisher L2e level controller brings fully electric level control to a wide variety of applications in production and processing systems.



The new Fisher L2e uses a rugged force-balanced displacer sensor to detect the level of a single liquid or the interface of two liquids. The controller's new advanced knife-edge sensing design combines with aerospace quality switch technology to provide rugged, reliable and accurate level control.



A fully electric level control loop, consisting of the L2e level controller used in conjunction with a Fisher easy-Drive™ electric actuator powered D3 or D4 control valve, helps to eliminate emissions and increase uptime and requires less maintenance than conventional pneumatic level loops.



The L2e zero and span adjustments enable tuning for a wide variety of level loop applications. Additionally, the controller is certified for use in hazardous areas and is NACE compliant for sour service.



By scanning the QR code on the inside cover of the L2e, instrument technicians have access to 24/7 field support for setup, calibration and loop tuning.



Visit http://www.fisher.com for more information or contact your Emerson sales office and ask to see the L2e Electric Level Controller product bulletin.



About Emerson Process Management

Emerson Process Management (http://www.emersonprocess.com), an Emerson business, is a leader in helping businesses automate their production, processing and distribution in the chemical, oil and gas, refining, pulp and paper, power, water and wastewater treatment, mining and metals, food and beverage, life sciences and other industries. The company combines superior products and technology with industry-specific engineering, consulting, project management and maintenance services. Its brands include PlantWeb™, Syncade™, DeltaV™, Fisher®, Micro Motion®, Rosemount®, Daniel™, Ovation™, and AMS Suite.



About Emerson

Emerson (NYSE: EMR), based in St. Louis, Missouri (USA), is a global leader in bringing technology and engineering together to provide innovative solutions for customers in industrial, commercial, and consumer markets through its network power, process management, industrial automation, climate technologies, and tools and storage businesses. Sales in fiscal 2011 were $24.2 billion. For more information, visit http://www.Emerson.com.   



Contact:

John Wells, Emerson Process Management

1 (641) 754-3288, John.Wells@Emerson.com