Electric Linear Actuators suit continuous duty applications.
Press Release Summary: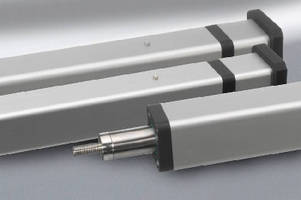 Available in 25, 32, and 40 sizes with square sizes of 34, 45, and 55 mm, respectively, PC Series utilizes ball screws, which provide efficiencies over 80% and use energy only on demand. Actuators deliver 6,000 N of thrust force and stroke lengths up to 1,200 mm. Featuring IP65 rating, units are well-suited for food processing and packaging, material handling, and factory automation applications where high accuracy and 100% duty cycle operation is required.
---
Original Press Release:

New Thomson PC-Series Electric Linear Actuators Offer Breakthrough Performance and Efficiency Advantages over Pneumatic Alternatives



WOOD DALE, IL — Thomson Industries, Inc., a leading manufacturer of mechanical motion control solutions, introduces the new PC Series, a new generation of precision, electric linear actuators for continuous duty applications. They offer the highest power density of any actuator in its class. The compact, efficient design enables machine builders clear advantages over traditional pneumatic linear actuators including simpler machine designs, lower maintenance, higher overall performance and substantially lower energy costs.



Traditional pneumatic actuator systems operate continuously, typically at 10-15% efficiency and also carry the high maintenance costs of compressors and air leaks. High efficiency ball screws employed in the new Thomson PC Series electric linear actuators have efficiencies of over 80% and use energy only on demand. Converting from pneumatic to electric actuation, for many applications, can generate in one year energy savings per axis which exceed the cost of the new actuator.



Thomson's PC Series electric linear actuators offer new flexibility to machine designers who frequently need to change set-ups to run different products or processes. Changing end stops or velocity profiles can be done on the fly with electric actuators, maximizing productivity and reducing scrap. The PC Series is similarly well-suited for food processing and packaging, material handling and factory automation applications where high accuracy and reliability and 100% duty cycle operation is required. They feature an IP65 rating, and smooth exterior profile which makes them ideal for wash down applications.



This new generation of electric linear actuators from Thomson offers a lot of power in a small package size which allows machine designers to reduce their machine footprint. PC Series actuators in sizes 25, 32 and 40 have square sizes of only 34 mm, 45 mm and 55 mm, respectively; yet deliver as high as 6,000 N of thrust force. Stroke lengths of up to 1200 mm are available, twice as long as most competitive electric actuators in comparable frame sizes. The Thomson PC Series also conforms to ISO 15552 for mechanical interfaces and adapters, making machine upgrades quick and easy.



The PC-Series actuators allow users to easily mount their own motor using the Thomson RediMount™ system for quick and reliable installation with guaranteed alignment. Motor mounting for both in line and parallel axis units can be accomplished in < 5 minutes, ensuring trouble free installation for over 600 pre-engineered motor configurations. Thomson provides expert support along with online sizing, selection and design tools to simplify the selection process and optimize your design solution.



For more information on PC-Series Precision Linear Actuators, including tools to estimate your energy cost savings, please visit: www.thomsonlinear.com/conversion



Thomson will be introducing this new actuator series in a live webinar showing how to easily replace pneumatics with electric actuators and profit from optimized machine designs and energy savings. More details of the webinar and how to dial in can be found at: http://goo.gl/wx0td8



About Thomson Industries, Inc.

With more than 60 years of motion control innovation and quality, Thomson is the industry's premier producer of Linear Ball Bushing® Bearings and Profile Rail Bearings, 60 Case® Shafting, ground and rolled Ball Screws, Linear Actuators, Gearheads, Clutches, Brakes, Linear Systems, and related accessories. Thomson invented the Linear Ball Bushing Bearing in 1945, and has set the standard ever since with an unsurpassed set of mechanical motion control solutions serving global commercial and aerospace & defense markets. Thomson Industries, Inc. has facilities in North America, Europe and Asia with over 2000 distributor locations around the world.



Thomson Industries, Inc., 1500 Mittel Boulevard, Wood Dale, IL 60191-1073; 1-540-633-3549; 1-540-633-0294 (fax); Thomson@thomsonlinear.com; www.thomsonlinear.com.



Company Contact: Rob Gallagher – +1 630 694 3321



Please quote the following contact information when publishing:

Tel.: 540.633.3549

Fax: 540.633.0294

www.thomsonlinear.com

Thomson@thomsonlinear.com

More from Optics & Photonics