Electric Aircraft Tug pulls up to 15,000 lb.
Press Release Summary: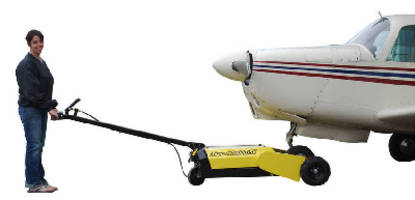 Using battery-powered, walk-behind Electric Aircraft Tug, one person can safely maneuver aircraft in and out of tight spaces in hangers or in staging on ramp. Smooth acceleration and braking systems eliminate rough starting/stopping of gas-powered clutching systems. Tug is suited for any aircraft towing applications up to 15,000 lb for individual, FBO, or corporate aircraft ground equipment.
---
Original Press Release:

New Small Electric Aircraft Tug Pulls Up To 15,000 Lbs



DJ Products, Inc. is the world's leader in providing battery-powered carts and a cart tug to the manufacturing, hospital, retail and aircraft industries. They provide solutions that eliminate the strains and pains associated with manually pushing heavy carts and wheeled equipment, or are less costly, smaller, and more maneuverable than traditional equipment like forklifts and pallet jacks which are not designed to push/pull wheeled carts and equipment.

Their sister company, called Lindbergh Aircraft Tug Company, has a new battery powered, walk-behind, quiet electric aircraft tug designed for one person to safely and easily maneuver aircraft in/out of tight spaces in hangers or in staging on a ramp. They have taken industry standard parts and hand control systems commonly found in the material handling industry and applied the technology to the aircraft tug ground equipment industry. Until now, the small aircraft tow tug industry has been dominated with outdated gas powered lawn mowing power train systems. Their aircraft tow tugs are designed for more demanding use where greater product reliability is needed.

Lindbergh's aircraft tugs have smooth acceleration and braking systems that eliminate the rough starting/stopping of gas powered clutching systems. Also, the quietness of their electric motors allow an operator to manipulate their airplane while having the full use of sound, site, and touch. The versatility and quality of their aircraft tow tugs are perfect for any aircraft towing application up to 15,000 lbs for individual, FBO, or corporate aircraft ground equipment.

If you are in need of an aircraft tug or just looking for information, Lindbergh Aircraft Tug Company manufactures the highest quality aircraft tugs at the most competitive prices. Please contact them today at 1-800-686-2651 or visit them on the web at http://www.lindbergh.com/aircraft-tug/index.html

More from Communication Systems & Equipment