Eldorado Offers Versatile Grey Stones in New Depth Patterns
Press Release Summary: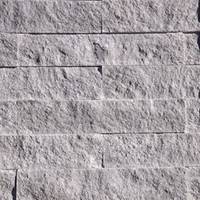 Eldorado Stone versatile greys include Cumulus Vantage30 and Cannonade Cut Coarse Stone®. Vantage30 comes with gentle texture surface and clean-cut lines with variable wispy shades of grey. Cannonade features a monochromatic grey canvas with depth of textures with warm layer overtones and subtle white highlights. The unit's natural stone surfaces are enhanced with intricately layered highlights, depth patterns and artistic touches.
---
Original Press Release:
Eldorado Stone Introduces Two Versatile Greys to Complement a Range of Designs
Cumulus Vantage30 and Cannonade Cut Coarse Stone add sophisticated depth of tone to acclaimed Modern Collection.
SAN DIEGO (PRWEB) MAY 31, 2018 - Eldorado Stone widens the possibilities for creative design, introducing two modern and versatile greys: Cumulus Vantage30 and Cannonade Cut Coarse Stone®. Cumulus, a new color in Vantage30, partners soothing greys with the gentle textural surface of the profile. The modern, clean-cut lines of the stone create a contemporary appearance that is augmented by the variable wispy shades of grey. Cannonade adds a monochromatic grey canvas to the presently warm palette offerings in Cut Coarse Stone. This modern linear-style profile, reminiscent of saw-cut Turkish limestone, adds a depth of texture through layers of warm overtones and subtle white highlights.
"We're constantly pushing the boundaries when it comes to elevating the appeal of natural stone surfaces by adding intricately layered highlights, additional depth patterns and other artistic touches," said Sarah Lograsso, Director of Marketing. "With Cumulus Vantage30 and Cannonade Cut Coarse Stone, grey becomes a perfect neutral to use in complementing and enhancing most color palettes."
TWEET THIS: Newly-announced Cumulus #Vantage30 and Cannonade #CutCoarseStone provide artistic highlights and layered depth patterns in versatile grey tones from @eldoradostone #stoneveneer bit.ly/ESCutCoarseStone bit.ly/ESVantage30
By intensifying the use of color to draw attention to the authentic textures of the stone, Cumulus Vantage30 and Cannonade Cut Coarse Stone present an organically sophisticated option for designers and architects to adapt to a wide variety of interior and exterior spaces. Whether grey is used as a complementary accent or as a design focus, these two neutral colors can help designers and architects create an ambience that is unique to their individual clients.
Vantage30 and Cut Coarse Stone are two popular profiles from Eldorado Stone's Modern Collection, a broad series of product offerings that aim to inspire architects, designers and other specifiers by providing a more modern edge to the tones found in natural stone. The versatility of these contemporary tones adheres to Eldorado Stone's vision of helping create spaces that are personal and meaningful.
To learn more about Eldorado Stone and its products, visit eldoradostone.com.
About Eldorado Stone 
Eldorado Stone, LLC is the manufacturer of the world's most believable architectural stone veneer and is headquartered in San Marcos, California. For more than 45 years, Eldorado Stone has demonstrated an undeniable passion for creating authentic products that elevate quality and design, including architectural stone and brick veneer, fireplace surrounds, fire bowls and outdoor living products. The company currently operates manufacturing facilities in several states with regional distribution centers across the U.S. For more information and to view a gallery of beautiful installations, visit http://www.eldoradostone.com.
Contact Information
Chad Riley
Merlot Marketing
9162859835
More from Adhesives & Sealants