EHi Steering Valves offer remote mounting options.
Press Release Summary: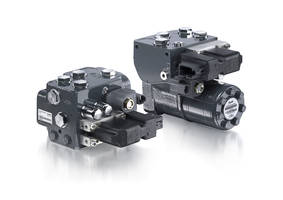 Available in 10 hydraulic configurations, EHi Steering Valves feature 12 to 70 lpm flow capacity. Units can be used in combination with steering unit or as standalone valve. Embedded with software, valves offer GPS auto guidance, quick steering and joystick steering. EHi Steering Valves meet SIL2 standards when used in combination with PVED CLS and are suitable for use with sprayers, wheel loaders and wheel excavators.
---
Original Press Release:
Danfoss Power Solutions Adds EHi Steering Valve to Line-Up of Steering Solutions
The new EHi valve offers steer-by-wire technology to OEMs working with limited space.
Danfoss Power Solutions will debut the new EHi electrohydraulic inline steering valve at the IFPE trade show in Las Vegas the week of 06-March, expanding its existing steering portfolio. More compact than other options, EHi is the optimum choice to increase flexibility and functionality when working with limited engine compartment space.
"EHi was developed to complement our current electrohydraulic product line and it's a great solution to optimize both vehicle and operator design," said Tom Rudolph, Product Marketing Director – Work Function. "OEM customers can use EHi to remove the steering column and steer with a joystick or other steer-by-wire inputs for four-wheel, or even full autonomous, steering. It can also be used as a universal steering valve, as it works with all common steering units."
With a flow capacity from 12 to 70 lpm, the EHi works with most applications in small to mid-size vehicles. The valve can be used as a standalone steer-by-wire unit for slow speed vehicles, which is ideal for applications in machines such as road rollers, forklift trucks or forestry machines.
"When EHi is used in conjunction with the PVED CLS steering and safety controller, OEMs can seamlessly create a certified steering subsystem, significantly reducing development time and cost," Tom Rudolph said.
Flexible design
With 10 available hydraulic configurations, the EHi valve unleashes the full potential of applications. It can be included as part of a scalable design package, as it shares the same platform with the OSPE valve and electronic actuators such as PVES, PVED CC and PVED CLS, making it easy to switch and combine products to directly meet specific OEM needs and avoid expensive changes to vehicle design.
Flexible mounting options allow EHi to be located wherever space is available, making electrohydraulic steering possible on vehicles where it has not yet been achievable.
EHi can be used both in combination with a steering unit or as a standalone valve. On vehicles with two axles, such as a sprayer, the EHi and OSPE valve form a comprehensive and compact steering solution without the need for external controls.
Additional features and benefits
The flexibility of the EHi steering valve offers high performance and embedded safety. Additional features and benefits include:
Simplified system design – the compact system design is composed of many configurations so it can work in all of the various hydraulic steering circuits on the market. Remote mounting options also improve design flexibility, resulting in optimized machine installation.
Faster time to market – reduced development time and improved design flexibility help OEM customers get exactly what they need in an easy-to-integrate package. To meet the new safety standards a lot of software and documentation work is required, but using the pre-certified steering and safety controller PVED CLS saves a significant amount of development hours.
Integrated safety controller – allows the OEM to receive a complete Category 3 safety architecture. The steering system is SIL2 certified when used with the PVED CLS, meeting the highest safety standards.
Embedded software features – allows flexibility for GPS auto guidance, quick steering, joystick steering and mini wheel steering.
The new EHi steering valve can easily be integrated in machines such as sprayers, wheel loaders, wheel excavators, tandem rollers, forklift trucks and fairway mowers. Utilizing the valve, either on its own or in tandem with other steering solutions, will provide previously unseen levels of steering control and flexibility.
Danfoss engineers technologies that enable the world of tomorrow to do more with less. We meet the growing need for infrastructure, food supply, energy efficiency and climate-friendly solutions. Our products and services are used in areas such as refrigeration, air conditioning, heating, motor control and mobile machinery. We are also active in the field of renewable energy as well as district heating infrastructure for cities and urban communities. Our innovative engineering dates back to 1933 and today Danfoss is a world-leader, employing 24,000 employees and serving customers in more than 100 countries. We are still privately held by the founding family. Read more about us at www.danfoss.com.
For technical information:
 Tom Rudolph                              Danfoss Power Solutions                              Phone: +45 7488 7556
                                                 Nordborg, Denmark                                        trudolph@danfoss.com
For media information and photos:
Americas and Europe:
Allee Wengert                           Danfoss Power Solutions                                 Phone: +1 515 956 5271
                                                Ames, Iowa, USA                                           awengert@danfoss.com
Asia-Pacifiic:
Kentaro Ide                             Danfoss Power Solutions                                Phone: +81 6 6395 6066
                                              Osaka, Japan                                                 kide@daikin-sauer-danfoss.com
China:
Kelly Xu                                 Danfoss Power Solutions                                 Phone: +86 21 3418 5336
                                             Shanghai, China                                               kxu@danfoss.com
Contact:
Danfoss Power Solutions
(US) Company
2800 East 13th Street
Ames, IA 50010 US
Telephone: +1 515 239 6000
Fax: +1 515 239 6318
More from Packaging Products & Equipment