Efficient Power Supply outputs 1,000 W.
Press Release Summary: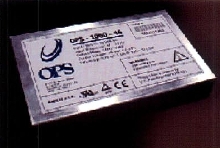 Isolated 48 V ac to dc power supply is small, light, cool and efficient. Power efficiency is 91%, so only 9% of energy is lost through heat dissipation. It has 0.99 power factor, provides packaged power density of 15 W per cu. in., and weighs less than 3 lb. Based on distributed power magnetics, it operates without cooling fans or heat sinks. Applications include telecommunications, data communications, networking and industrial products.
---
Original Press Release:
ONLINE POWER SUPPLY ANNOUNCES RELEASE OF NEW 48-VOLT, 1,000-WATT POWER SUPPLY THAT IS DRAMATICALLY SMALLER, LIGHTER AND MORE EFFICIENT THAN THE COMPETITION

ENGLEWOOD, Colo. - OnLine Power Supply, Inc. (OTC-OPWR), announced today the release of its revolutionary new isolated 48-volt AC to DC power supply.

Prototypes for evaluation of the 1,000-watt power supply are being shipped to original equipment manufacturers (OEMs), who have expressed continued interest in the new product during the design and testing phase.

The release marks a milestone for OnLine Power Supply, which has been developing and testing the 48 Vdc power supply -- the first in a family of new OPS products - for three years.

"This may be the most important event in our company's history. All of our research, discovery, hard work and persistence is paying off," said OPS CEO Kris Budinger. "We're excited to start production and get power supplies into our customers' hands so they can create new generations of smaller, more powerful, more efficient products."

The 48 Vdc power supply incorporates OPS' sophisticated new Distributed Power Magnetics7 (DPM) technology, the first significant breakthrough in power supply development in 23 years. This patented/patent pending technology results in AC to DC power supplies that are dramatically smaller, lighter, cooler and more efficient than anything else in this niche. DPM also provides superior MTBF (mean time between failure) statistics. Marketing is geared toward the top 50 electronics and telecommunications companies in North America and work is under way with OEMs to secure long-term design-in business for the 48 Vdc power supply.

"An OEM that can reduce the costs of heating, ventilation and air conditioning, the costs of maintenance, and the costs of real estate, ultimately creates value for the customer. Consequently, a power supply meeting all of these specifications (efficiency, availability, volume, and weight) would clearly attract the attention of most any OEM," said Andrew Huang, Power Electronics Research Analyst at CIBC World Markets Corp. "The real beneficiary of this product will be the data center manager, whose primary concern is total cost of ownership."

The new unit provides packaged power efficiency of about 91 percent, meaning only 9 percent of the energy created is lost through heat dissipation. This is a dramatic improvement over the current industry standard of 75 to 85 percent efficiency. The 48 Vdc power supply is .99 power factor corrected and provides a packaged power density of 15 watts per cubic inch, giving design engineers more power in a box one-third the size of competitors' models. It also provides a significant weight reduction, compared to competitors' products. The 1,000-watt OPS 48 Vdc power supply weighs less than 3 pounds, while competitors' 500-watt units weigh between 4 and 6 pounds.

"A manufacturer can fit three of our power supplies in the same space it currently takes for just one of the competition's products," said OPS' Steve Watt, 48-Volt Project Manager. "Using our product, system designers will have two to three times more power in the same footprint. This frees up room for more components, or allows for a smaller overall product."

To understand the significance of this new power supply, think about a server, the device that operates the computer networks at most large companies. Inside the server case are: a power supply, circuit board, processors, memory, hard drives, CD drives, and cards for video, sound and graphics, etc. Each of these components generates heat and must be kept within a specific operating temperature, usually assisted by a cooling fan. If it gets too hot inside the server case, the system will malfunction or shut down.

Over the last 36 years, technology has generally kept pace with Moore's law, which says that processor speed doubles every 18 months. Microprocessors, memory chips, device cards and other components have all advanced at this rapid pace, and with increased performance has come increased heat.

Until now, power supply technology hasn't kept pace with Moore's law. OPS' 48 Vdc power supply represents a quantum leap that puts power supplies on pace with the rapid developments in the rest of the electronics industry. Looking back at the server example, OPS' DPM technology allows designers to add more power to the system in less space. And unlike others, OPS' power supplies generate added heat in a smaller proportion to the increase in power. That means designers can add more user-friendly features and components without exceeding the thermal budget (the system's cumulative operating temperature). The end result is a smaller, faster, cooler, more powerful server.

"The customer is going to appreciate the enhanced capabilities our products offer without cost penalties. They solve real world problems in a cost-effective manner," said Chris Riggio, OPS' Vice President of Discovery.

Servers are just one example of the applications for this new power supply. This breakthrough power supply could provide real solutions and advances in products for the telecommunications and data storage industries, as well as in ATMs and a host of other high-tech products.

"Elements of this product such as power density, efficiency, size, simplicity and MTBF lend themselves to reliability," Riggio said. "It's a tremendous cost benefit because the customer doesn't have to spend as much to cool things." Dick Doyle, P.E., of Doyle and Associates in La Jolla, Calif., said OPS' 48 Vdc power supply offers several advantages over the competition.

"This is new technology to the power industry. It's the latest and greatest in terms of temperature and speed of switching," said Doyle, who has evaluated power supplies from 10 to 20 manufacturers over the last 15 years. "Specifically, the technology that's incorporated allows the system to provide reliable power over a wide range of voltages and loads at high temperatures. And it provides high efficiency with consequently low energy dissipation."

The OPS engineering team has been testing the 48 Vdc power supply in preparation for UL certification. Pre-production work at the manufacturing plant will begin in the coming weeks.

OnLine Power Supply holds a U.S. patent for the process of producing AC to DC power supplies that provide efficiencies of up to 97 percent, power densities of more than 16 watts per cubic inch, operating temperature ranges of -40 to +85 Celsius, all with no thermal deration. This technology is called Distributed Power Magnetics (DPM) and is the first significant breakthrough in power supply in over 23 years. The sophisticated DPM products also operate without cooling fans or extraneous heat sinks and boast impressive MTBF statistics, all in the lightest and smallest footprint available for their particular configurations. Benefited industries include telecommunications, data communications, networking and industrial.


More from Software