EDM Machine comes with automatic tool changer.
Press Release Summary: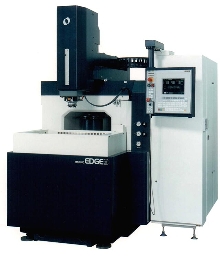 Compact Edge3 Sinker EDM is suitable for use in plastic injection molding and forging die job shops. It measures 78 x 84 x 92.8 in., weighs 10,340 lb, and has 8, 16, or 32 station automatic electrode changer. Machine has XYZ axis of 18 x 12 x 12.8 in. with Z-axis jump speed of 400 ipm. Traverse speed is 400 ipm and cycle time jump rates are 393 ipm. Worktable allows for workpieces as large as 1,760 lb. Automatic fire extinguisher protects operators, workpiece, and machine.
---
Original Press Release:
Makino Introduces Edge3 Sinker EDM
Larger and More Dynamic Version of Popular EDGE2 MASON, OH-August, 2002-Makino is introducing the EDGE3 sinker EDM machine to the plastic injection mold and forging die job shop marketplace at the International Manufacturing Technology Show (IMTS) in September. The EDGE3 is a larger and much more dynamic version of the popular EDGE2 machine. This new machine is well suited for both the entry-level shop as well as the advanced high-level shop looking to automate EDM and to achieve high accuracy with superior surface finishes. The relatively compact EDGE3 is 78 x 84 x 92.8 inches (1,950 x 2,100 x 2,320 mm) and weighs in at a solid 10,340 pounds (4,700 kg), which can benefit the smallest or the largest metal production shop. It is value-designed to provide exceptional service that any shop can afford, without compromising on the latest technology or quality of finish provided on similar and larger Makino machines. The EDGE3 machine is specifically intended to facilitate safe and simple unattended operation for entry-level EDM applications. And, like all Makino products, it will help shops drive out more operational costs from than any competitive machine. The Makino EDGE3 will be unveiled and demonstrated at Makino's Booth #8400 in Hall A. In addition, Makino is showcasing a wide range of wire EDM technology at Booth #4227 in Hall D. Design Features The innovative mechanical and servo design of the EDGE3 provides cycle time jump rates of 393 IPM (9,825 mm/min.). Makino's Intelligent Expert System(TM) (IES) and MGH CNC Power Supply includes the new SuperSpark(TM) technology. This allows the EDGE3 to achieve faster overall machining rates, with superior surface finishes to 2 µinch. The EDGE 3 has an X-, Y-, Z-axis of 18 x 12 x 12.8 inches (450 x 300 x 320 mm), with a Z-axis jump speed of 400 ipm (10,000 mm/min). The rapid traverse speed of the unit is 400 ipm (10,000 mm/min). The 24 x 18 (600 x 450 mm) worktable allows for workpieces as large as 1,760 pounds (800 kg) in weight, with a tabletop height of 35.6 inches (890 mm). This size of operation allows for electrodes that are 2 x 5 inches (50 x 125 mm) and up to 110 pounds (50 kg). The automatic tool changing (ATC) function on the EDGE3 operates twice as fast as other small EDM sinker machines, and includes storage for eight electrodes, with an option for 16 electrodes. The Makino EDGE3 S-series is HQSF(TM) (High-Quality Surface Finish) capable, with a standard 60 amp power supply and a sludge separator required. Other optional features to enhance the flexibility of the EDGE3 include EROWA ITS and 3R Macro installation sets and a wire attachment for intricate detail work. It also has an optional C-axis with an MA spindle rotary head capable of enhancing deep, fine hole machining applications, another key advantage to the EDGE3. The machine bed of the EDGE3 is a heavily ribbed, single piece casting. Anti-friction linear guides and bearings complete the high-performance design, combining excellent rigidity with low-mass dynamics. This heavy-duty construction, combined with the fixed table, brings high levels of rigidity to every application. Standard Features Promote Unattended Operation and High-Precision The EDGE3 is enhanced by an array of Makino's standard EDM features, including: o an eight, 16 or 32 station automatic electrode changer for unattended operation and improved throughput o a high-precision, heavy-duty MR C-Axis rotating head, with 10 rpm capability o an automatic fire extinguisher to protect the operators, workpiece and machine o a fixed table which eliminates dielectric weight shift during machining and improves servo reaction speed and precision o guaranteed positioning and repeatability accuracy of ±.000039 inch Makino's award-winning drop tank design with zero fill time and dielectric chiller completes these features. The tank size for the EDGE3 is 32 x 22 x 14 inches (800 x 550 x 350 mm), with a maximum fluid capacity of 400 L and a maximum fluid height of 300 mm. The drop tank improves many aspects of the EDM process, as the retractable tank walls provide wide-open table access for safe, simple slide-onloading and faster, more accurate setups. And the adjustable tank depth allows optimal matching of dielectric fluid level to workpiece size for overall dielectric savings. Makino is a global provider of advanced machining technology and application support for the metalcutting and die/mold industries, dedicated to driving out more costs from your manufacturing operation than any other competitive machine tool manufacturer. Makino manufacturing and service centers are located in the United States, Japan, Germany, Singapore, Italy, France, Korea, Taiwan, China, Mexico, Brazil, and India, and are supported by a worldwide distributor network. For more information call 1.800.552.3288, or visit Makino on the Web at www.makino.com.
More from Mechanical Power Transmission