Edgecard Connectors support 0.062 in. multilayer PC boards.
Press Release Summary: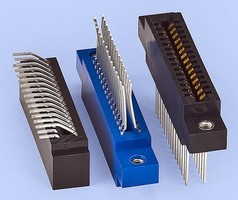 Cantilever edgecard connector series features insulation resistance of 5,000 mW minimum as well as dialectric withstanding voltage of 600 Vdc on 0.100 in. centerline boards and 1,800 Vdc on 0.156 in. centerlines. They are designed to mate with plated fingers of 0.062 in. ±0.008 in. daughterboard. Available in temperature ratings from 125-175°C, double row connectors have current rating of 3 A per pin and are available with 0.370 or 0.400 in. wide insulators.
---
Original Press Release:

Sullins' New Cantilever Edgecard Connector Series



Board-to-Board Connectors Allow Easy insertion and Robust Connections
for 0.062" Multi-Layer PC Boards

San Marcos, CA, October 15, 2007...Sullins Electronics, Corp., a global leader in the design and manufacture of 100% RoHS-compliant board level interconnect products, expanded its extensive portfolio of edgecard connectors to include a cantilever edgecard connector series engineered to provide high performance, low cost connections on 0.100" (2.54 mm) or 0.156" (3.96 mm) centerline boards. Designed to mate with the plated fingers of a 0.062" +/- 0.008" daughterboard, parts may be ordered rated to withstand +125, +150, or +175 degrees C continual heat. These double-row connectors are available with either 0.370" or 0.400" wide insulators, and are supplied in right angle, card extender, and straight lead configurations, as well as in a large range of sizes to afford maximum design flexibility and manufacturing efficiencies. Moreover, they boast superior electrical and physical characteristics, and are interchangeable with Sullins' high-profile devices, without the need to replace motherboards or daughterboards.

The PCB mount series' cantilever contacts offer a reliable connection in a wide array of high reliability, or high cycle mother-daughterboard applications requiring the connection of one printed circuit board (motherboard) to 0.062" daughterboards. They are ideal for use in communications systems, medical equipment, instrumentation, and automotive R&D. Notably, the high-temperature parts may be confidently specified for such applications as test and burn-in ovens.

The UL94-0 rated devices feature selective gold plating or overall gold and a current rating of 3 A per pin. They are available in 6/12 through 70/140 dual positions on 0.100" centerline spacing, and with 6/12 through 43/86 dual positions on 0.156" centerline spacing. Supplied with a choice of standard thermoplastic polyester, PA9T, beryllium copper, or phosphor bronze contacts, the series features an insulation resistance of 5000 megohms minimum, and a dielectric withstanding voltage of 600 VDC (on 0.100" centerlines) and 1800 VDC (on 0.156 centerlines). Connectors provide consistent insertion/withdrawal from part-to-part, and all-inclusive lot-to-lot with a low 8-ounce average insertion force, and a 1-ounce minimum withdrawal force per contact pair. A comprehensive selection of mounting styles, plating, and keying options, as well as customization is also available. To learn more about Sullins' cantilever edgecard connector series visit http://206.71.176.190/files/SullinsPage36-37_100_HP_400_DS_WW_RA_CE_062_093PCB.pdf, and http://206.71.176.190/files/SullinsPage32-33_100_HP_DS_WW_RA_CE.pdf.

While firm pricing is determined according to customers' specifications, average cantilever edgecard connector prices range from $0.15 to $0.30 per contact pair. Delivery is 3 to 4 weeks ARO.

About Sullins Electronics, Corp.

Headquartered in San Marcos, CA, Sullins Electronics, Corp. (www.SullinsElectronics.com) has been a world leader in the design, engineering, and manufacturing of high-quality edgecards and headers since 1971. The Company provides the industry's widest selection of UL/CUL approved edge cards, and additionally offers product development services together with engineering support. Sullins' edgecards, headers, bi-level, and CompactPCI connectors are widely specified for use in mission-critical applications by a broad spectrum of leading industrial, commercial, military and consumer products manufacturers. Sullins' connectors and interconnect systems are offered through a global network of sales representatives and distributors.

More from Electrical Equipment & Systems