Edgecard Connectors have staggered, dip solder contacts.
Press Release Summary: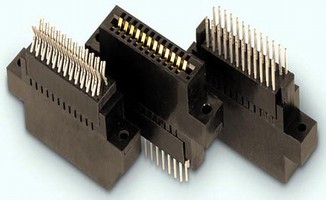 Suited for power supply applications, bi-level connectors feature 6-100 contact positions, 0.050 in. contact center spacing, and backwards compatibility with 0.100 in. center spacing devices. Staggered contact configuration promotes design flexibility for high-density PCB designs. Able to accommodate interconnection of 0.062 in. ±0.008 in. daughtercards, parts are provided with beryllium-copper pins and PPS/PA9T insulators to meet requirements for operating over -65 to +150°C range.
---
Original Press Release:

Sullins Releases High-Temperature Connectors Featuring Staggered, Dip Solder Contacts



New Bi-Level Parts Boast Operating Temperature Rage of -65 Degrees C to +150 Degrees C for Demanding Power Supply Applications

San Marcos, CA, July 26, 2007...Announced today by Sullins Electronics, a global leader in the design and manufacture of 100% RoHS-compliant board level interconnect products, is the addition of bi-level edgecard connectors featuring staggered, dip solder contacts. The parts are the newest members of Sullins' expanding offering of bi-level components for high-temperature applications, which includes straight and right angle card extenders. Recognized under the Component Program of UL and C-UL, they feature 0.050" (1.27 mm) contact center spacing, and are backwards compatible with 0.100" (2.54 mm) center spacing devices to double the number of contacts within the same space. Their staggered contact configuration notably enhances design flexibility and efficiency, as they can be lined-up on a board for virtually limitless connections. Further, as contacts are dip solderable, "icicles" or ligaments, and other imperfections caused by dripping solder, are eliminated to optimize manufacturing throughput, and speed products' time-to-market.

Expressly engineered for employment on high-density PC boards, Sullins' connectors are designed to accommodate the interconnection of 0.062" +/- 0.008" daughtercards in communications systems, medical equipment, instrumentation, and automotive R&D. They are most frequently used in backplanes, power supplies, burn-in ovens, and testing systems. To satisfy the demands of severe high-temperature applications, parts are provided with BeCu (beryllium-copper) pins and PPS/PA9T insulators to meet the requirements for operating in the temperature range of -65 degrees C to +150 degrees C. Alternatively, connectors are available with phosphor-bronze pins and PPS/PA9T insulators when an operating temperature range of -65 degrees C to +125 degrees C is specified.

Offered with from 6 to 100 contact positions, parts' specifications include a single contact current rating of 3 Amps, and a single contact normal force of 0.75N (75 grams). They also feature an insulation resistance of 5,000 Megaohms minimum at 125 VDC. A wide choice of mounting options, and selective or full plating is available. To learn more about these bi-level connectors for high-temperature applications, visit www.sullinselectronics.com.

Average pricing for Sullins' new bi-level connectors with staggered, dip solder contacts ranges from $0.35 to $0.60 per contact pair in production quantities. While delivery is 2 to 3 week ARO, samples are immediately available.

About Sullins Electronics, Corp.

Headquartered in San Marcos, CA, Sullins Electronics, Corp. (www.SullinsElectronics.com) has been a world leader in the design, engineering, and manufacturing of high-quality edge cards and headers since 1971. The Company provides the industry's widest selection of UL/CUL approved edge cards, and additionally offers product development services together with engineering support. Sullins' edge cards, headers, bi-level, and CompactPCIä connectors are widely specified for use in mission-critical applications by a broad spectrum of leading industrial, commercial, military and consumer products manufacturers. Sullins' connectors and interconnect systems are offered through a global network of sales representatives and distributors.

Related