Edge Tape withstands work and foot traffic.
Press Release Summary: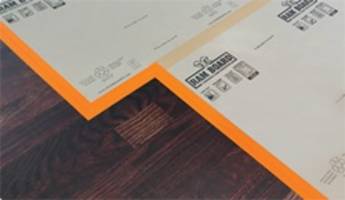 Edge Tape™ is designed to bond with Ram Board surface protection products and helps in holding firmly in place. The unit can be easily released from surfaces by keeping them clean. Having 2.5 in. width, tapes safety orange color helps in easily identifying the edge of work area. Tape can be removed cleanly without any residue even after 14 days on the surfaces.
---
Original Press Release:
Ram Board® Introduces Easy-Secure, Easy-Release Tape
Edge Tape™ is a brand-new solution for hard working Ram Board users. This tape is strong and durable enough to secure Ram Board floor protection to floors, walls and stairs using unique, low-tack adhesives that removes cleanly without damaging surfaces.
Ram Board is introducing a new tool for surface protection toolboxes – Edge Tape. This new product was engineered to securely bond with Ram Board surface protection products and hold them firmly in place. And, just as importantly, it was engineered to easily release from surfaces to leave surfaces clean and in-tact after the job is done.
The tape is durable enough to withstand work and foot traffic without requiring re-application which saves both time and money. Edge Tape can be left on surfaces for up to 14 days and still be removed cleanly with no residue left behind. The tape is 2.5 inches wide, making installation easy. Plus, the safety orange color easily identifies the edges of the work area.
Edge Tape joins the innovative family of Ram Board products designed to provide protection and convenience to any project. Find a supplier near you https://www.ramboard.com/LocateADealer.html.
Ram Board manufactures and distributes heavy-duty temporary floor and jobsite protection engineered for contractors. Designed with cost and efficiency in mind, it lays out fast and is reusable. Ram Board is non-staining and utilizes its Flex-Fiber™ technology, allowing for the curing of new floors. It provides the perfect solution when protecting new or existing concrete, wood, tile, stone, linoleum, vinyl composition tile (vct), epoxy, and most other floor types. For more information, visit http://www.ramboard.com or call (818) 848-0400.
More from Sensors, Monitors & Transducers