Eddy Current Separators feature rare earth magnets.
Press Release Summary: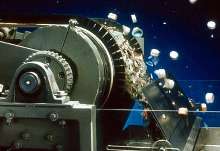 Eddy Current Separators utilize Erium(TM) 3000 permanent, non-electric rare earth magnets in rotor element to separate non-ferrous materials in plastic, glass, electronics, wood scrap, recycling, and automotive shedder residue. When nonferrous metal passes over rotating separator at high speeds, eddy currents are created in nonferrous metal, generating magnetic field. When polarity of magnetic field is the same as rotating magnet, nonferrous metal is repelled from magnet.
---
Original Press Release:

Eddy Current Separator with Erium(TM) 3000 Rare Earth Magnetics is the Most Effective in Capital Cost, Operating Cost and Separation Efficiency


ERIE, PA-- Eriez Magnetics' expanded line of Eddy Current Separators, used in the recovery of non-ferrous metals, are top of the line separators that feature powerful permanent non-electric Rare Earth magnetics in the rotor element. This high gradient Erium(TM) 3000 Rare Earth magnetic rotor element results in significant energy savings and an increase in separation force over 5x that of conventional permanent magnets.

Eddy Current Separators with powerful Rare Earth magnets used to produce its separation force are measurably the most effective in capital cost, operating cost and separation efficiency.

Eriez' Eddy Current Separators effectively separate non-ferrous materials in plastic, glass, electronic, and wood scrap, recycling, foundry, automotive shedder residue and other resource recovery environments.

In operation, when a piece of nonferrous metal passes over the rotating separator at high speeds, eddy currents are created in the nonferrous metal, which generates a magnetic field around it. When the polarity of that magnetic field is the same as the rotating magnet, the nonferrous metal is repelled from the magnet. This repelling force separates the metallics from the non-metallics, providing cleaner product for further processing.

Eriez is recognized as world authority in advanced technology for magnetic, vibratory and metal detection applications. The company's magnetic lift and separation, metal detection, materials feeding, screening, conveying and controlling equipment have application in the process, metalworking, packaging, recycling, mining, aggregate and textile industries. Eriez manufactures and markets these products through nine international facilities located on five continents. To receive Eriez' SB-780 brochure on Eddy Current Separators, call toll-free in the U.S. and Canada at (888) 333-(ERIEZ) 3743 or (814) 835-6000. For online visitors, download a pdf at www.eriez.com or send Email to eriez@eriez.com

More from Chemicals & Gases