Eddy Current Separator features eccentric rotor design.
Press Release Summary: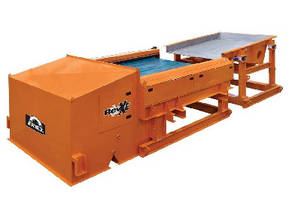 Featuring eccentric Rare Earth magnetic rotor with adjustable position, RevX-E® maximizes recovery of non-ferrous metals in ASR, cullet, plastics, secondary metals, and incineration ash applications. Smaller diameter magnetic rotor offset at top of larger outer shell allows repelling force to focus in area closest to outer shell, minimizing ferrous build-up by releasing it from belt after it has passed through field. In addition, separator has conveniently located access panels for servicing.
---
Original Press Release:

Eriez RevX-E Eddy Current Separator Features New Eccentric Rotor Design



Erie, PA --The RevX-E®, Eriez' most recent addition to its extensive line of Eddy Current Separators, features an eccentric magnetic rotor for separation of nonferrous metals. The new eccentric rotor design brings greater recovery of valuable nonferrous metals in ASR, cullet, plastics, secondary metals and incineration ash applications.



RevX-E's eccentric rotor design features a smaller diameter magnetic rotor offset at the top of a larger outer shell. This allows the rotor's repelling force to focus in the area closest to the outer shell. Although the eccentric rotor radiates a more focused surface area for separation, this new design reduces ferrous build-up by releasing it from the belt after it has passed through the field.



The change in rotor design and overall improvements in the RevX-E creates several advantages and benefits for this Eddy Current Separator:



• Rare Earth rotor produces a powerful focused field, allowing greater recovery of nonferrous metal

• Rotor position is adjustable for optimum separation

• Eccentric design reduces long-term wear from ferrous build-up

• Compact design requires less space and is easier to install in most plant operations

• Access panels are conveniently located for easy servicing



In typical applications, Eriez Eddy Current Separators are most often configured with other separation and sorting equipment for a cleaner, higher quality recycled product. More information about the new RevX-E, including a video and downloadable brochure, can be found at: http://www.eriez.com/Products/revxeccentricrotoreddycurrentseparator/.



Eriez is recognized as world authority in separation technologies. The company's magnetic lift and separation, metal detection, x-ray, materials feeding, screening, conveying and controlling equipment have application in the process, metalworking, packaging, plastics, rubber, recycling, mining, aggregate and textile industries. Eriez manufactures and markets these products through 12 international facilities located on six continents. For more information, call toll-free (888) 300-ERIEZ (3743) within the U.S. and Canada. For online users, visit www.eriez.com or send email to eriez@eriez.com. Eriez World Headquarters is located at 2200 Asbury Road, Erie, PA 16506.

More from Fasteners & Hardware