Ecosmob Offers Microsoft Dynamics 365 Business Central Software for Medium and Large Enterprises
Press Release Summary: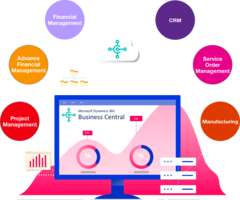 Offered with enhanced financial management, supply chain, inventory and sales management features
Ecosmob offers business central implementation and customization services for enterprise
Provides detailed analysis of current business operating model and a suitable way for implementation of business central
---
Original Press Release:
Ecosmob Announce Microsoft Dynamics 365 Business Central Solution Customization and Implementation Services for Medium and Large Enterprises
Ecosmob announced professional custom implementation services for Microsoft Dynamics 365 Solution for Medium and Large Enterprises worldwide with convincing reasons to pick them.
Ecosmob, a global technology leader with expertise in AI, software development and Web technologies, announced launch of Microsoft Dynamics 365 Business Central solution implementation for medium and large enterprises worldwide.
Business Central, said the VP, is a welcome and progressive step forward from the older Microsoft Dynamics 365 for Finance and Operations. Business Central is now more streamlined, integrates a variety of functions and features. It is more complex and sophisticated and it does need professional competence to upgrade existing solution to Business Central or to install it from the ground up. Ecosmob and its team of Microsoft Dynamics 365 Business central developers have the expertise and competence to assist with custom implementation.
Business Central, he went on, has quite a few new features such as enhanced financial management, supply chain and inventory management and sales management. Then there is project management, manufacturing management and operations management in a neat package with a very easy to use user interface. The underlying complexity and the variety of options as well as the way the product is licensed all have an impact on end use and outcomes. As is to be expected, the Business Central solution for enterprises has AI and machine learning features too. This is where Ecosmob can play a vital role with its Business Central implementation and customizing services.
What exactly does Ecosmob bring to table? In response, the VP continued by stating that Ecosmob's proven expertise the entire suite of Microsoft Dynamics 365 solutions is in its favor. Further, the company has teams familiar with cloud technologies as well as on-premise custom software solutions. Thirdly, Ecosmob has a separate division for machine learning and artificial intelligence. Business Central is a confluence of technologies. Its implementation calls for specialized knowledge in upgrading, customizing and configuring existing databases. Existing Dynamics GP and NAV users will need specialized services for the migration. Ecosmob offers this service with a detailed analysis of existing business operating model and the best way to implement Business Central for cost and performance.
Business Central is quite complex too and users may become confused with so many options. Ecosmob and its team carry out installation, customize it and then offer training to users at various levels. "Our involvement takes the frustration out of the installation and usage of Microsoft Dynamics 365 Business Central."
One key area is to make the Business Central solution and its implementation smart from day one. Ecosmob focuses on machine learning and AI so that clients can gain better predictive insights and trends analysis. Over time, the AI infused Business Central system becomes smarter with machine learning and, with our assistance, said the VP, it helps users gain from predictive capabilities.
Customers know that competence must be matched with professional level help and support from the start since it is not a fit and forget solution. Ecosmob stands by its customers to help them keep evolving and derive even more benefits from its investment in Business Central.
Interested enterprises wishing to go in for fresh Business Central installation or to upgrade existing Microsoft Dynamics to the richer Business Central platform are welcome to get in touch at 1-303-997-3139, use the online form or chat live on https://www.ecosmob.com/microsoft-business-central/.
More from Software