Ecosmob Offers Kiosk Applications for Telecommunication Businesses
Press Release Summary: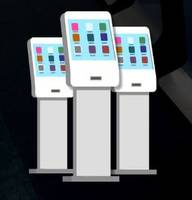 Ecosmob Kiosk Application Development is based on factors such as attractive user interface and seamless integration process. They enable telecommunication businesses and VoIP carriers to use collaboration and a mixture of time amount communication tools. The kiosks allow user to use fingers for navigating through various touchscreen panels. They are installed in unsupervised locations that require more security measures with most up-to-date content for customer's access.
---
Original Press Release:
Ecosmob Announces Kiosk Applications to Meet the Exact Needs of Your Business
Kiosk Applications holds variety of promising applications for small and medium businesses, and also the technology is changing into a lot of possiblilities each day. 
IT solutions and services provider for world businesses, Ecosmob offers kiosk Applications to satisfy the precise desires of your business and convey your project idea to life.
Ecosmob Squad one of the most skilled team for customized VoIP solutions with a dedicated client-centric approach announces its new Kiosk Applications offerings. Ecosmob's kiosk Applications solutions are designed with the mission to help telecommunication businesses and VoIP carriers to use collaboration and a mixture of your time amount communication tools to expedite higher knowledge and impact their bottom line.
There are two key factors of kiosk application development - an attractive user interface and a seamless integration process. Ideally, an organization should allot most of the software development resources to those factors in order to maximize a return on its kiosk application development investment.
However, in reality there are several challenges organizations have to deal with during kiosk application development. To understand these challenges, we need to explain how a kiosk application and a regular website differ.
The user experience
When browsing a website, customers can sit comfortably in front of a computer at home or in the office and have a mouse to navigate through the pages.
Users have a very different experience at a kiosk. When browsing a kiosk application, users are standing with the screen at eye level. Sometimes users may feel pressure if there are other people lining up behind them, so they move quickly. Instead of a mouse, users are using their fingers to navigate through the various touchscreen panels.
Security issues
For a website, the responsibility of protection comes down to the corresponding web system and the data transaction process. If the server and the transactions are protected then the entire system should be secure.
When a kiosk system is deployed, in addition to the central server and data transaction, each kiosk must also be protected. Kiosks are often in unsupervised locations, requiring more security measures for sufficient protection. We will discuss kiosk security in more detail in a future blog post here, so stay tuned!
Content
A kiosk manager needs to be sure that customers have access to the most up-to-date content from any kiosk. The easiest solution for this is to make the kiosk application Web- based and manage all the content from a central system. Another option for managing content is to develop a content distribution system or purchase one from a third party.
About Ecosmob Technologies:
Ecosmob Technologies was supported in 2007 to supply its enterprise customers highquality, enterprise-grade IT solutions and services. the company uses last technology to deliver a diffusion of services beside VoIP Development, Mobile Application Development, Digital promoting and extra. 
Since supported, Ecosmob has adopted a customer-centric approach to serve its world patronage and has successfully addressed varied business requirements with premium quality VoIP, Mobile and net solutions.
More from Architectural & Civil Engineering Products