Ecosmob Now Offers Microsoft Dynamics CRM Software for Global Enterprises
Press Release Summary: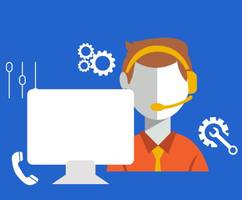 Helps in managing customers, automation of marketing efforts, real-time management of issues and optimization of channels
Offers total analysis and design, automation features, and integrate with Microsoft dynamic modules
Serves customer better and derives actionable intelligence and insights
---
Original Press Release:
Ecosmob Announce Microsoft Dynamics CRM Implementation Services
Ecosmob announced the availability of Microsoft Dynamics CRM implementation services for global enterprises at affordable prices backed by superb services.
Ecosmob, a global technology solution provider, announced the availability of Microsoft Dynamics CRM implementation service. This service is targeted at global enterprises with widespread enterprises.
Speaking on the occasion, the company's VP said that their implementation of Microsoft Dynamics CRM solution is aimed at existing users of Microsoft Dynamics 365 package as well as those who are adapting this ecosystem for the first time. In either case, Ecosmob's team of professionally qualified and certified Dynamics CRM integrators tailors implementation to suit customer's business and goals.
Ecosmob offers the standard suite of Microsoft Dynamics CRM implementation that includes total analysis and design for a client, installation and configuration, automation of features, integration with other Microsoft Dynamics modules, testing and total support. "In this respect we are very much like other Microsoft Dynamics implementation services in following a standardized and globally recognized pattern," said the VP. However, the similarities end there.
The end purpose of CRM is to serve customers better and to derive actionable intelligence and insights. This is where Ecosmob distinguishes itself. It does have a wing dedicated to machine learning and artificial intelligence and that team provides inputs to make the Dynamics CRM implementation smarter and more intelligent. "This is the pattern we have followed in implementations so far and each client has reported significant improvements," he claimed. Further, each client's implementation of Dynamics CRM is fine tuned for speed of operation, ease of use and for high performance in managing customers, automation of marketing efforts, real time management of issues, optimization of channels and in generating a higher degree of customer retention.
Ecosmob, he claimed, stands out in the way it makes specific efforts to completely understand a client and customize CRM precisely to help them achieve their goal. This kind of quality service, he continued, would be prohibitively expensive but Ecosmob, based in India with a global footprint, offers its expertise at an affordable rate. This is capped by total commitment and support to customers along with handholding and training. Dynamics CRM, he said, is not a fit and forget solution but one that needs to be fine tuned and modified as a client grows and Ecosmob total support does just that with dedicated commitment. No implementation proceeds in a straightforward manner and there always are technical hitches. Ecosmob has specialists in Dynamics in addition to other areas such as networking and VoIP as well as cloud technologies, whose combined expertise go into making it the smoothest processes ever.
Enterprises interested in implementing Microsoft Dynamics CRM from the ground up or adding it to their existing Dynamics setup may get in touch with Ecosmob on phone 91 79 40054019, 1-303-997-3139, use the web form or chat live on https://www.ecosmob.com/microsoft-dynamic-crm/#Contact-us.
Related