Eco US5 Plastic Pallet offered in different proprietary material compositions.
Press Release Summary: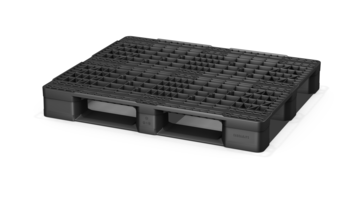 Available in the standard dimensions of 48 x 40 inches and weighing from 31 lbs, Eco US5 Plastic Pallet takes dynamic loads of up to 4400 lbs. and racking loads of up to 2200 lbs, with reinforcements it can also handle up to 2800 lbs. Designed to make it highly durable in cold temperatures, Pallet is more robust and less susceptible to damage. Unit is suitable for various industries from food and beverages to retail and pharmaceuticals.
---
Original Press Release:
One Pallet. Limitless Possibilities
Quality "Made in the USA" – Cabka-IPS introduces the most versatile multi-trip plastic pallet to the market: the Eco US5.
Cabka-IPS will be showing innovations and selected products from its extensive portfolio of plastic pallets at Pack Expo in Chicago at booth E-6826. The company will also be celebrating the world premiere of the Eco US5: its newest product and a plastic pallet unique to the US market. The pallet delivers with its customer-friendly versatility, its longevity, and its extensive savings potential. It also supports the company's position as a full-service pallet provider.
Efficiency advantage
Its entire operating life considered, the one-time purchasing costs of a wooden pallet amount to only 25 percent of the total costs. In comparison, the Eco US5 offers extensive savings potential thanks to its low subsequent costs (e.g. breakage, handling, transport, washable and storage expenses). Especially its high performance capacity, low weight and its long operating life contribute to the economic advantage of the Eco US5.
Lightweight – heavy load capacity
With a net weight starting at only 31 lbs., the Eco US5 takes dynamic loads of up to 4400 lbs. and racking loads of up to 2200 lbs.; with reinforcements it can also handle up to 2800 lbs. in a rack. This makes it a universal pallet that is able to deliver high performance in many applications. It is universally applicable in closed loops, production plants and goods distribution and is suitable for many different industries from food and beverages to retail and pharmaceuticals.
Customer-friendly flexibility
The pallet is available in the standard dimensions of 48 x 40 inches and is customizable to suit the customers' needs. For example, there is the possibility to choose an open or closed deck or with three or six runners, which is ideally suited for automated conveyor systems and for block stacking. An important new feature is also the possibility to equip the pallet with additional metal reinforcements. This makes the pallet highly durable and perfectly suited for high racks. Overall, through the additional metal reinforcements, the load capacity can be significantly increased. Optionally safety rims and non-slip stoppers complete the extensive range.
The right material depending on the requirements
Cabka-IPS offers the Eco US5 in different proprietary material compositions. With this, the company follows their motto that the most expensive material is not always the right one, but rather that material, with which the specific requirements can be implemented in the most economical way. For example, the Eco US5 is available as a hygienic multi-trip pallet in blue made of virgin polypropylene (PP) with FDA approval for use in direct contact with food, meat or pharmaceuticals. Additional freezer additives make the pallet highly durable in cold temperature environments. Thanks to their know-how in the field of plastic recycling, Cabka-IPS can optimally adapt the Eco US5 to the needs of its customers. The company places great value upon "Made in USA" quality, which is also true for nearly every pallet they offer.
High impact strength
In the production of the Eco US5, Cabka-IPS focused on making the pallet more robust and less susceptible to damage. Thorsten Lenz, Head of Research & Development at Cabka-IPS elaborates on that: "When transporting pallets with industrial trucks, it may happen that the forklift arms do not properly enter the forklift pockets, but hit the pallet in the area of the foot or deck instead. The high impact strength of our pallet significantly reduces the risk of damage with such improper handling, and thus extends the service life." Thus, the Eco US5 has a longer lifespan than the standard pallet made of wood. Depending on factors such as the load carried by the pallet, and the way in which it is shipped and stored, the Eco US5 lasts much longer than a wooden pallet.
Recyclability enables never-ending material loop
Unlike wooden pallets, that have to be taken out of circulation after a few times, the Eco US5 can be used again and again. The pallet is 100% recyclable and can be converted by CABKA into new products. Thus, the Eco US5 retains its material value at the end of its operational life. That approach is not only sustainable and innovative – it is also good for the customers' return on investment
Information about Cabka-IPS:
Cabka-IPS produces plastic pallets and boxes in St. Louis, MO (USA), Weira (Germany), leper and Herstal (Belgium) and Valencia (Spain). The company employs around 570 people in Europe and North America. Cabka-IPS products are in use in more than 80 countries.
For more information and pricing:
Stuart Lindemann,
Director of Sales & Marketing
Tel. +1.314.731.0302,
CABKA North America, Inc. | 123 Byassee Drive | St. Louis, MO 63042 | USA
More from Architectural & Civil Engineering Products