ECCO/Gregory Inc Now Provides Knife Gate Valve Assemblies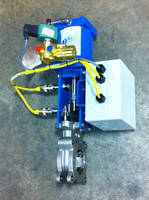 Ecco/Gregory has provided knife gate valves to local customers since 1980.  This includes applications in the following industries; pulp and paper, power, chemical, petrochemical, materials handling and conveying as well as with various OEM's.



Recently we were asked to quote on a requirement which included the following components; air cylinder actuated valves, solenoid, target limit switches with AS-Interface communication including junction boxes for termination of all wiring.  We were awarded an order for a mix of 22 round and square ported valves for dry material conveying and silo shutoff services.  All of the valves required bi-directional seating capability.  The valves ranged in sizes of 3" - 6" for round and 15" to 24" for square.   



Attached is a photograph of one of the final assemblies which is representative of all other assemblies.   Contact ECCO/GREGORY – info@eccogregory.com or by phone at 800-220-3226 for your manual and automated (pneumatic or electric) valve requirements.  Our office and warehouse with $1.2M in inventory is located in West Chester, PA. 





More from Electronic Components & Devices