Eaton C22 Pushbuttons Establish a New Level of Versatility, Reliability for OEM Customers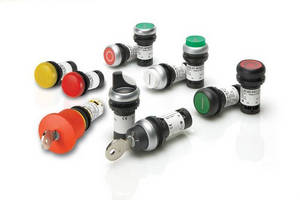 Pittsburgh ... Diversified industrial manufacturer Eaton Corporation is expanding its pushbutton offering, with a new line of compact pilot devices. The C22 line has an all-in-one design that includes the operator and contact blocks in one complete housing. It provides high-volume original equipment manufacturers (OEMs) with a broad selection of operators, functionality and features, which are robust and can be used in high pressure and high temperature wash-down environments.

"The C22 design reflects Eaton's commitment to providing products that deliver increased reliability, functionality and time savings," said Joshua Worley, product manager, Eaton Corporation's Electrical Sector. "Innovative engineering allows customers to convert a button's functionality in the field. Maintained pushbuttons and momentary selector switches can be field converted to momentary and maintained, reducing inventory and increasing functionality. "

Compact and easy to install, the C22 product line features monoblock construction with built-in contacts and is engineered for simple push-through and tighten installation. Although the 22-millimeter (mm) design is compact, it offers the same pressable area as 30 mm pushbuttons.

With an IP67 rating on most front elements, the C22 devices are engineered for harsh industrial environments. Many standard operators also have more stringent IP69K ratings, protecting them from submersion and high pressure and temperature wash-down environments found in food processing environments.

The C22 line includes Light Emitting Diode (LED) illuminated pushbuttons and pilot lights, twist-to-release emergency stops, selector switches, as well as flat and extended non-illuminated pushbuttons. Standard C22 pushbuttons have a mechanical lifespan of five million operations and can operate in temperatures between -25°Celsius (C) and 70°C.

Designed for global applications, the C22 pushbuttons meet Underwriters Laboratories® (UL), Canadian Standards Association® (CSA), and International Electrotechnical Commission (IEC) standards.

Eaton's electrical business is a global leader in power distribution, power quality, control and automation, power monitoring, and energy management products and services. Eaton is positioned, through its Cutler-Hammer®, Moeller®, Powerware®, Holec®, MEM®, and Santak® global electrical product series, to answer today's most critical electrical power management challenges.

Eaton Corporation is a diversified power management company with 2010 sales of $13.7 billion. Celebrating its 100th anniversary in 2011, Eaton is a global technology leader in electrical components and systems for power quality, distribution and control; hydraulics components, systems and services for industrial and mobile equipment; aerospace fuel, hydraulics and pneumatic systems for commercial and military use; and truck and automotive drivetrain and powertrain systems for performance, fuel economy and safety. Eaton has approximately 73,000 employees and sells products to customers in more than 150 countries. For more information, visit www.eaton.com.


More from Sensors, Monitors & Transducers