Earmuffs provide passive hearing protection.
Press Release Summary: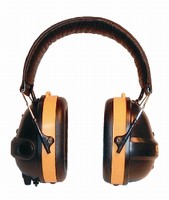 Delivering noise reduction across full range of frequencies, SONEX® NoiseBuster® Earmuffs provide up to 20 dB of electronic noise cancellation and passive Noise Reduction Rating of 26 dB when worn over head. Earmuffs allow critical speech communication to be heard clearly and let users listen to music or radio communication at less damaging volumes. They include on/off switch, power indicator, stereo input audio jack, and adjustable non-conductive headband.
---
Original Press Release:

illbruck Acoustic Introduces SONEX® NoiseBuster® Electronic Noise Canceling Earmuffs



Protection and safety for industrial workers and DIYers



MINNEAPOLIS - illbruck acoustic, inc., has introduced SONEX NoiseBuster Electronic Noise Canceling (ENC) Earmuffs which provide passive hearing protection with advanced electronic noise cancellation technology. The product provides high-performance ear protection and increased safety for industrial workers, as well as for do-it-yourself users of lawnmowers and power tools, and for motor sports fans.



SONEX NoiseBuster ENC Earmuffs deliver noise reduction across the full range of frequencies - up to 20 dB of electronic noise cancellation and passive Noise Reduction Rating (NRR) of 26 dB (worn over the head).



The electronic noise cancellation protection component is the most effective defense against low-frequency noises such as those generated by engines, fans and motors. The passive protection component is the most effective defense against mid- and high-frequency noise such as speech and saws.



The electronic noise cancellation technology used in the SONEX NoiseBuster integrates a microphone inside the ear cup that listens to noise coming into the ear. The system analyzes the information electronically and creates an opposite noise wave that cancels the one coming into the ear. The anti-noise wave is transmitted through a speaker, also located in the ear cup. When the two waves meet, the noise is significantly reduced.



SONEX NoiseBuster ENC Earmuffs allow critical speech communication to be heard more clearly and users to listen to music or radio communication at lower, less damaging volumes. NoiseBuster can be worn over the head or behind the head.



SONEX NoiseBuster ENC Earmuffs include a durable carrying case, battery and audio interface cable. The product features an on/off switch and power indicator, stereo input audio jack and plastic-molded adjustable non-conductive headband. NoiseBuster operates up to 65 hours on a single AA battery and is resistant to water, moisture, contaminants, mechanical shock and vibration. The product also has a one-year warranty, replacement parts and accessories.



For information about SONEX NoiseBuster ENC Earmuffs, contact illbruck acoustic, inc., at 800-662-0032 or visit www.pinta-acoustic.com.



illbruck acoustic, inc., manufactures a broad range of ceiling tiles, wall panels and room acoustic products for commercial and industrial applications including CONTOUR® Ceiling Tiles, HARMONI™ Ceiling Tiles, WHITELINE® Ceiling Tiles, SQUARELINE™ Metal Ceiling Tiles, BIOLINE™ Wood Ceiling Tiles, FABRITEC™ Wall Panels, SONEX® Panels and Baffles, SONEXcurtains™ and Enclosures, and PROSPEC® Barrier, Composite and Foam materials.



illbruck acoustic, inc.

3800 Washington Avenue North

Minneapolis, MN 55412

800-662-0032

sales@illbruck-acoustic.com

www.pinta-acoustic.com

More from Machinery & Machining Tools