E-Signature Device captures electronic signatures.
Press Release Summary: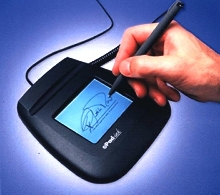 ePad-ink uses LCD to capture and display signatures as they are written along with data from document being signed. It also captures handwriting biometrics, including stylus pressure and timing data to help ensure security of signatures within digital domain. User signs pad with stylus and transaction, along with its digital receipt and signature, is electronically stored for easy retrieval.
---
Original Press Release:

Introducing ePad-ink, Today's Most Advanced E-Signature Device Targets Corporate, Government and Retail Documents, Forms and Transactions


Camarillo, California, May 22, 2002 -- Interlink Electronics, Inc., (Nasdaq: LINK), the worldwide leader in the development of intuitive interface technologies and e-transaction solutions, today announced availability of ePad-ink--the most technologically advanced signature capture device available. The newest member of Interlink's family of ePad e-transaction products, ePad-ink uses a liquid crystal display (LCD) to capture and display signatures as they are written along with data from the document being signed. The ePad-ink input pad also captures handwriting biometrics including stylus pressure and timing data. Combined with the unique electronic identification number coded into each ePad-ink device, these biometrics help ensure the security of signatures within the digital domain.

ePad-ink - The Most Intuitive Form Of E-Signature
In a single step, ePad-ink transforms the handwritten signature into today's most intuitive form of electronic signature. Simply sign the pad with a stylus just as you would a piece of paper with a pen. Its ergonomic design makes signing easy and visual feedback from the input screen produces a natural signature within an intuitive signing context

"To reduce costs and transaction times, businesses and government institutions are leveraging their IT investments to automate the processing of paper documents and forms-including those requiring a binding signature," says Rod Vesling, vice president of sales and marketing, electronic transactions, Interlink Electronics, Inc. "Fortune 1000 companies and government agencies will appreciate ePad-ink's LCD display, ergonomic form-factor and competitive price-point."

"ePad-ink is designed for retail systems and is compatible with today's leading point-of-sale (POS) terminals," continues Interlink's Rod Vesling. "Its deployment can dramatically decrease a merchant's overhead due to charge-backs and receipt storage. Customers making in-store purchases simply sign the electronic receipt that appears within the ePad-ink screen. The transaction, along with its digital receipt and signature, is electronically stored for easy retrieval."

About ePad-ink
ePad-ink is a USB e-signature input pad that is compatible with today's most popular signature software including CIC's Sign-it, Silanis Technologies' Approve IT, and Valyd Inc.'s eSign. Depending on the software chosen. ePad-ink can permanently bind handwritten signatures into Microsoft® Outlook®, Word®, Excel®, Adobe Acrobat® and AutoDesk AutoCad® documents, as well as a variety of Internet documents and proprietary electronic forms. ePad-ink is also compatible with the world's leading point-of-sale (POS) retail terminals--offering USB, serial, and custom interface options. More information is available http://www.epadlink.com/.

ePad-ink is available to corporate users, integrators, resellers and OEMs directly from the manufacturer starting in June, 2002. Packaged initially with driver software only, ePad-ink has a suggested list price of $269 (US). Contact Interlink Electronics at (800) 340- 1331, (805) 484-1331), or online at www.interlinkelectronics.com/.

About Interlink Electronics
Interlink Electronics, Inc. (Nasdaq: LINK) is a global leader in the design and manufacture of intuitive interface technologies and products. Creating industry interface standards, our Business Communications, E-transactions, Home Entertainment and Specialty Products business segments have established Interlink as the comprehensive source for branded and OEM solutions, worldwide.

Our Electronic Transactions (ET) segment markets a family of ePad electronic signature products used to hand-sign electronic documents, forms and point-of-sale transactions. Recent ePad customers include Charles Schwab, Ford Credit, and Prudential Financial. ePad software partners include Communications Intelligence Corporation (CIC), CyberSign, Silanis Technologies, and Valyd Inc.

Interlink Electronics serves a world-class customer-base from its corporate headquarters in Camarillo, CA, and offices in Tokyo and Hong Kong. The company currently holds more than 70 patents on sensor technologies, wireless communications protocols and product design properties. See LINK online at www.interlinkelectronics.com/ or in Japan at http://www. interlinkelec.co.jp/


More from Fasteners & Hardware