Dynamometer measures machining forces during turning.
Press Release Summary: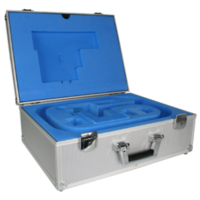 Machining Force Measuring System Type 9129A is 3-component, modular system that measures cutting force, feed force, and passive force during turning processes. Various lathe adapters and sizes of turret adapters can be mounted with minimum manipulation. Temperature error is minimized and product features ground-isolated mounting, avoiding ground loop errors. Corrosion-resistant system includes Type 9129AA dynamometer with height of 32 mm and measuring range of up to ±10 kN.
---
Original Press Release:
3-Component System for Measuring Machining Forces During Turning
With Type 9129A... Kistler Instrumente AG is introducing a 3-component system for measuring machining forces (cutting force (Fc), feed force (Ff), passive force (Fp)) during turning processes. The modular system is based on the dynamometer Type 9129AA, which is also new. The modularity allows different lathe adapters (VDI, Coromant Capto and clamping unit for standard turret) and various sizes of turret adapters to be mounted on dynamometer with a minimum of manipulation. Toolholders for cutting and boring tools can also be readily mounted on the cover plate of the dynamometer. Type 9129A... is suitable for machining forces of up to 8 kN. The special design of the dynamometer minimizes temperature error. The piezoelectric sensor system on which this measuring system is based measures the forces with virtually no displacement. Ground loop problems are largely avoided by ground-isolated mounting of the sensors. Provided matching cables are used, the corrosion-resistant dynamometer is protected against ingress of cutting fluids to IP67. On inclined bed lathes with two turrets the measuring system can be mounted over or under the workpiece. The components of this system are designed to ensure that - irrespective of the mounting position - the cutting edge of the tool is always at the height of the rotational axis, in the middle of the workpiece. The new machining force dynamometer is ideal for analyzing process capability, investigating new general and cutting materials, and optimizing high-performance cutting with greater widths and depths. The modularity of the system enables the user to simply employ dynamometer Type 9129AA, which is included in the Machining Force Measuring System Type 9129A..., for other general force measurement applications. This dynamometer Type 9129AA, which is also available separately, has an impressively low overall height of 32 mm and large measuring range of up to ±10 kN. CompacDyn Type 9254 is being replaced with new dynamometer Type 9129AA. Kistler Group
Eulachstrasse 22 Tel. +41 52 224 11 11 ZKB Winterthur BC 732 IBAN: CH67 0070 0113 2003 7462 88408 Winterthur Fax +41 52 224 14 14 Swift: ZKBKCHZZ80A VAT: 229 713 Switzerland info@kistler.com Account: 1132-0374.628 ISO 9001 certified www.kistler.com 300-639e-06.09 Kistler Group
Kistler's core competence is the development, production and use of sensors for measuring pressure, force, torque and acceleration. Kistler's know-how and electronic systems can be used to prepare measuring signals for use in analyzing physical processes, controlling and optimizing industrial processes, improving product quality in manufacturing and improving performance in sports and rehabilitation. Kistler offers a comprehensive range of sensors and systems for engine development, automotive engineering, plastics and metal processing, installation technology and biomechanics. A worldwide sales presence in the form of 25 group companies and 30 distributors ensures customer proximity, application support on an individual level and short lead times. With a staff of 1000, the Kistler Group is one of the world's leading providers of dynamic measuring instrumentation. The Kistler Group achieved turnover of 215 million Swiss Francs in the 2008 financial year.
More from Controls & Controllers