Dust Containment Cabinets maintain cleanrooms.
Press Release Summary: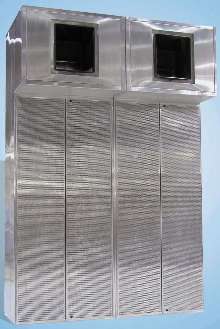 Series 1532 Inflow Dust Containment Cabinets, constructed of painted steel, incorporates blower on top of unit that draws air into pair of wall-mounted filters. HEPA filter system consists of 2 parts: absolute HEPA filter and flexible duct to form modular component. Cabinets provide 2 stages of filtration before HEPA filter: disposable, non-woven framed fiberglass media and optional charcoal filter. Units are offered in widths of 4-6 ft and heights of 6-12 ft.
---
Original Press Release:

Dust Containment Cabinets Help Keep Cleanrooms Clean


MINNEAPOLIS, MN - Clean Air Products introduces Series 1532 Inflow Dust Containment Cabinets. These units are constructed of painted steel for compatibility with typical cleanroom environments, and are an ideal solution for mailroom protection, hazardous materials and biological safety applications.

With the blower located on top of the unit, the system draws air into a pair of wall-mounted filters to be filtered and discharged back into the workspace. The HEPA filter system consists of two parts - the absolute HEPA filter and a flexible duct to form a modular component. Series 1532 units also provide two stages of filtering before the HEPA filter. The first stage consists of disposable, non-woven framed fiberglass media, while the second is an optional charcoal filter.

Series 1532 cabinets come in a variety of sizes and styles to suit specific application requirements, with a number of custom options available upon request.

Additional features include:

o An acrylic hood

o Standard prefilter efficiency of 40 percent by NBS test method

o 99.99 percent filter efficiency on 0.3 micron HEPA and 0.12 Micron ULPA

o Custom options such special size capabilities

o Available in standard widths of 4-to-6 feet and heights of 6-to-12 feet, consult factory for additional sizes

o Optimum performance achieved with minimal required maintenance

Clean Air Products has been designing and manufacturing cleanroom systems and related products for more than 20 years. Their products feature rugged metal construction for dependable performance and long life. They provide custom modification services to create products and systems designed to satisfy specific application requirements.

For more information contact: Clean Air Products, 8605 Wyoming Ave N, Minneapolis, MN 55445; (800) 423-9728; (763) 425-9122; fax: (763) 425-2004; email: sales@cleanairproducts.com; or visit www.cleanairproducts.com.

More from Material Handling & Storage