Durable, Flexible, Thermoplastic Hose withstands 10,000 psi max.
Press Release Summary: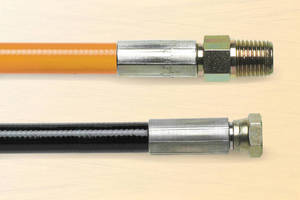 Offered in 14 designs, ReinFlex Thermoplastic Hose can be used on assembly lines and in-field maintenance/repair. Multi-layer construction has up to 3 layers of reinforcing materials, and most hoses can offer 4:1 safety factor on burst pressure. With IDs from 3/32–1 in., products offer choices for transmitting all types of liquids and gases as well as flexibility and flex fatigue resistance. Portion of hose can be offered in non-conductive design. Various fitting options are also available.
---
Original Press Release:

Reinflex High Pressure Hose Withstands Up To 10,000 PSI



- Rugged materials and build deliver a true 4:1 safety factor on burst pressure



Cranbury, NJ – CRP Industrial, a division of CRP Industries Inc. and a North American supplier of high-pressure thermoplastic and industrial hoses, synchronous belts, and high speed electric motors, offers a family of ReinFlex Thermoplastic Hose designs that provide outstanding performance and durability in a wide variety of industries, including one configuration that safely handles dynamic working pressures up to 10,000 PSI.



Demands on thermoplastic hoses vary widely depending on the fluids or gases being transmitted, operating environments, routing challenges, exposure to possible abrasion, and other factors. But often the determining factor in the choice of thermoplastic hose is operating pressure.



The ReinFlex family of thermoplastic hoses features 14 different designs, each with specific materials and construction that allow design engineers and maintenance specialists to choose the hose that perfectly suits their needs. These features make ReinFlex high pressure hoses an excellent choice for OEs to use on the assembly line, as well as for maintenance and repair in the field.



Key to the strength and durability of ReinFlex high-pressure hoses is its multi-layer construction, which features as many as three layers of reinforcing material. The reinforcing materials include a combination of polyester fiber, polyaramid yarn, steel, and aramid. Because of these rugged reinforcing materials and ReinFlex's unique construction, most of the hoses in the ReinFlex high pressure hose family can offer a true 4:1 safety factor on burst pressure.



ReinFlex high-pressure hoses are offered in a variety of sizes, with ID ranging from 3/32 in. up to 1 in. The fourteen different designs of ReinFlex high pressure hose assure that there are choices for transmitting all types of liquids and gases, including petroleum or synthetic-based fluids, fuel and mineral oils, most phosphate esters and many industrial gases as well. ReinFlex hoses offer excellent flexibility and flex fatigue resistance. A portion of the product can be offered in a non-conductive design. CRP's thermoplastic product line has hoses that can withstand exposure to paints, solvents, and other chemicals, as well as other environmental agents such as ozone and UV light.



ReinFlex high-pressure hoses are lightweight, compact, flexible, and will not deteriorate like ordinary rubber hoses. They are available with a variety of fittings, including NPT, NPSM, BSP and JIC, in plated or stainless steel, male or female. Twin lines are welded together, providing an attachment that is far superior to taped or clamped hoses. Custom sizes and designs are available upon request, as are custom colors for some hoses. ReinFlex also offers a full selection of hose accessories, including hose jackets, pressure gauges, quick connect/disconnect couplers, and more.



"We know that needs for transmitting many different types of fluids or gases can vary widely depending on the particular application," explains Pete Sanquini, VP Business Development for CRP Industrial. "Our family of ReinFlex high pressure hoses includes offerings that cover nearly every application imaginable. We offer hose designs that are just right for use in a host of different industries, including chemical plants, oil rigs, construction and other heavy equipment, water treatment plants, vehicular applications like line stripers and spray foam, fire and rescue equipment, as well as in smaller local uses like those encountered by maintenance crews, plumbers, and contractors."



Continues Sanquini, "Our wide assortment of sizes, strengths, and other specialized features assures that there's a ReinFlex hose for every need, from construction sites and fleet maintenance shops to assembly lines for new product manufacturing. And our engineers welcome inquiries regarding specific needs or applications."



More information on the ReinFlex hydraulic hose and the entire family of ReinFlex products is available at www.crpreinflex.com



CRP Industrial is a division of CRP Industries, Inc., one of NAFTA's largest suppliers of specific industrial accessories and applications, and has been a proven partner to the North American industrial hose market for more than 20 years, specializing in custom orders for high-pressure thermoplastic hose.  The group consists of four diverse specialty product brands: TuderTechnica rigid mandrel hoses, ContiTech industrial synchronous belts, Perkse electric motors, and Reinflex high-pressure thermoplastic and Teflon hoses. With the support of warehouses in the USA and Canada, CRP can fabricate and ship an order in as little as 24 hours. For additional information, visit www.crpindustrial.com

More from Packaging Products & Equipment