Dura Supreme Cabinetry's New Acrylic and Foil Color Options are Designed for Bria Cabinetry
Press Release Summary: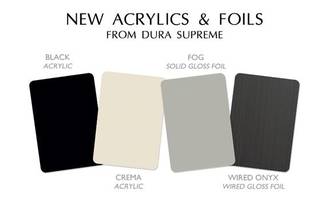 Dura Supreme Cabinetry is now offering black acrylic, crema acrylic, fog solid gloss foil and wired onyx wired gloss foil options to its frameless cabinetry Bria. These new color provide homeowners with innovative and quality products.
---
Original Press Release:
Dura Supreme Cabinetry Announces New Contemporary Finishes for its Bria Frameless Cabinetry Line
Howard Lake, MN: Dura Supreme Cabinetry has added several new acrylic and foil color options to their contemporary offerings in their frameless (full-access) product line, Bria.
With the increasing trend of black being used architecture, Black acrylic has been added to Dura Supreme's Acrylic cabinetry color palette along with a new warm neutral,Crema.
With gray color schemes trending at an all-time high, additional gray tones were added throughout the contemporary selection including Fog, the new addition to Solid Gloss Foils, and Wired Onyx, the new addition to Wired Gloss Foils.
Dura Supreme's team of trend and style forecasters continue to keep their product offering current and cutting-edge, providing homeowners with stylish, innovative, and quality products.
About Dura Supreme Cabinetry
Located in Howard Lake, Minnesota, Dura Supreme is a second-generation, family-owned company that manufactures semi-custom and custom, framed and frameless cabinetry for a nationwide network of dealers. For 50+ years homeowners and designers have looked to Dura Supreme for kitchen and bath cabinetry that fulfills their desire for personalized design choices and outstanding quality of construction. To learn more about Dura Supreme or to locate an authorized Dura Supreme cabinetry dealer visit www.durasupreme.com
More from Laboratory and Research Supplies and Equipment