DuPont Presents Enviva EO that Helps to Increase Nutrient Absorption Directing Energy towards The Animal Growth at IPPE Expo
Press Release Summary: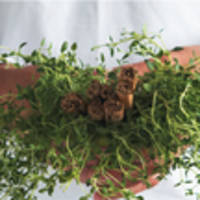 Combination of two compounds, thymol and cinnamaldehyde
Nature identical phytogenic blend designed to fit into any nutritional health strategy and consistently improve feed intake
Focuses on the interaction between nutrition, microbiome and gut as well as immune function
---
Original Press Release:
DuPont Animal Nutrition to Showcase New Enviva® EO at IPPE Expo
As part of its nutribiosis platform, DuPont will soon introduce Enviva® EO – a nature identical phytogenic blend – to the U.S. market
Wilmington, DEL. (PRWeb) February 11, 2019
DuPont Animal Nutrition is set to attend the 2019 International Production and Processing Expo (IPPE) in Atlanta, Georgia, from Feb. 12-14, 2019. DuPont will showcase Enviva® EO, a nature identical phytogenic blend designed to fit into any nutritional health strategy and consistently improve feed intake, leading to improved gut heath and performance. Enviva® EO will be available in both the United States and Latin America markets in the coming months.
Phytogenics are bioactive compounds – originally found in plants – that can provide well-known benefits to animal production, including improving feed efficiency while supporting intestinal function and health. Enviva® EO is a combination of two compounds, Thymol and Cinnamaldehyde, which were carefully selected for their synergistic benefits, to boost feed intake, thereby stimulating the release of digestive enzymes and improving intestinal development. By boosting feed intake, Enviva® EO also helps increase nutrient absorption, directing energy toward the animal's growth.
Enviva® EO is the latest development under nutribiosis, focusing on the interaction between nutrition, microbiome and gut, and immune function. The company believes that taking a holistic view is essential – a view that considers how everything that is fed to an animal combines and interacts in the intestinal tract.
Through the lens of nutribiosis, DuPont is investing in science and innovation to help producers improve performance, increase livability and support welfare in the face of increasing pressure to reduce or remove antibiotics from production systems.
"We believe by asking questions and taking customer-specific measurements, our extensive nutritional health expertise can discover integrated, tailored solutions for our partners most pressing issues and problems," said Dawn Overby, Global Segment Leader, DuPont Animal Nutrition.
"The solutions can always be found in the science, and we use our expertise to deliver optimum dosing recommendations that are targeted to a customer's unique ingredients, species, geography and budget," said Overby.
DuPont is fully committed to the animal feed industry and the community gathered at IPPE, a commitment evident by the ongoing investment DuPont makes to support the industry with targeted innovation. The Animal Nutrition team recently delivered presentations at the International Poultry Scientific Forum, and members of the group are set to speak this week at IPPE.
DuPont Animal Nutrition will be at Booth #2511 in Hall A at IPPE. The team invites conference attendees to join them for complementary drinks from 3:00-5:00 p.m. both Tuesday, Feb. 12 and Wednesday, Feb. 13. Speaking details – and more information about DuPont's presence at the Expo – can be found at http://bioscience.dupont.com/LP=321.
About DuPont Industrial Biosciences
DuPont Industrial Biosciences, a DowDuPont Specialty Products Division business, works with customers across a wide range of industries to make products and industrial processes more efficient and sustainable. Through a unique combination of biotechnology, chemistry and material science capabilities, we advance market-driven, bio-based solutions to meet the needs of a growing population, while protecting our environment for future generations. For updates about how DuPont Industrial Biosciences is helping customers deliver cost-effective products with superior performance and sustainability, follow @DuPontBiobased on Twitter, find us on LinkedIn or visit our website at http://biosciences.dupont.com.
About DowDuPont Specialty Products Division
DowDuPont Specialty Products, a division of DowDuPont (NYSE: DWDP), is a global innovation leader with technology-based materials, ingredients and solutions that help transform industries and everyday life. Our employees apply diverse science and expertise to help customers advance their best ideas and deliver essential innovations in key markets including electronics, transportation, building and construction, health and wellness, food and worker safety. DowDuPont intends to separate the Specialty Products Division, which will be called DuPont, into an independent, publicly traded company. More information can be found at http://www.dow-dupont.com.
Contact Information
Denisse Gaudin
DuPont Animal Nutrition
+31-61-510-2508
More from Sensors, Monitors & Transducers