Dual Station ESD Monitor assures continuous grounding.
Press Release Summary: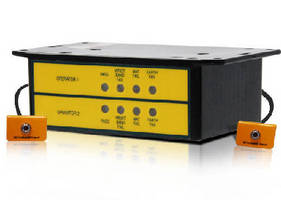 By deploying advances in digital signal processing, Emstat Dual Band 35-013 constantly monitors connection to ground, operators' benchmats, and dual wristband/cord configurations. Should any connections be broken, audible alarm will sound to warn operator, while status of electrostatic protected area is clearly shown on display panel, indicating fault needs attention. Applications include disk drive assembly, semiconductor fabrication, flat panel fabrication, and electronics assembly.
---
Original Press Release:

Gemini Introduces Dual Station Constant ESD Monitor



Gemini Integrated Electronics' unique and recently launched Emstat monitor is specifically designed to safeguard an electrostatic protected area (EPA) in three zones: earth, mat, and wristband. The brand new device constantly monitors a connection to ground, to operators' benchmats and to dual wristband and cord configurations.

Assurance of continuous good grounding is the cornerstone of an ESD-safe environment. By deploying the latest advances in digital signal processing, the Gemini Dual Band 35-013 monitor provides continuous, uninterrupted monitoring of grounding parameters on a workbench. Should any of the connections be broken, an audible alarm will immediately sound to warn the operator while the status of the EPA is clearly shown on the display panel, indicating that a fault needs attention.

Static electricity is an issue that can impact product quality in today's sensitive electronic manufacturing, handling and processing environments. Continuous static measuring is therefore essential to avoid potential hazards. As a true dual workstation monitor, the Emstat 35-013 uses two terminals: one for each operator's connection, to allow placement at different workbenches. Developed with convenience and ease-of-use in mind, the Dual monitor's small size enables it to be fitted beneath the workbench between operators, ensuring minimal disruption to operator working without intruding on the workspace and offering 'always-on' functionality to keep the area continually safe.

The Emstat monitor delivers just 10 micramps of signal to the wrist strap, and offers dual wrist strap configurations to ensure a continuous resistivity check of the human body while continuously monitoring each operator's body voltage. The monitor is completely safe to use in most manufacturing environments in applications that include disk drive assembly, semiconductor fabrication, flat panel fabrication, electronics assembly, medical, military and aerospace. "Traditionally, you would need to invest in separate monitors and place them on the workbench," explains Gemini's, Tony Buckell. "The pioneering 35-013 provides an ideal solution for multiple workbench configurations with the added advantage of cost and space saving. The monitor is incredibly easy to use and features innovative technology to ensure you maintain a critical ESD-safe environment," claims Buckell.

Find out more at www.geminiintegratedelectronics.com

About Gemini Integrated Electronics Ltd

Gemini Integrated Electronics Ltd is an industry leader in the field. We manufacture the Emstat TM range of ESD test and measurement instruments and provide solutions for ESD problems to a broad manufacturing base. With a comprehensive product range of instruments and consumables they can ensure an ESD-safe manufacturing environment.


More from Chemicals & Gases