Dual Purpose Digital Sheet provides applicational versatility.
Press Release Summary: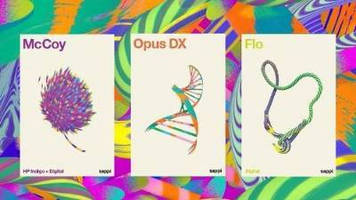 As cross platform #2 digital cut sheet, Opus® DX delivers versatility by offering performance on both dry and liquid toner digital production color presses. FSC® and SFI® Chain of Custody-certified and Lacey Act-compliant sheets, accommodating needs of marketers looking for blue-white sheet with high brightness, contain 10% Post-Consumer Recycled Fiber (PCRF) and is manufactured using electricity generated with Green-e® certified renewable energy.
---
Original Press Release:

Sappi Fine Paper North America Announces New Dual Purpose Digital Sheet - Opus® DX



Now offering a comprehensive digital sheet lineup - McCoy®, Opus® DX and Flo® - for all of your digital printing needs



BOSTON -- Sappi Fine Paper North America today launched Opus DX - a cross platform #2 digital cut sheet offering supreme versatility with performance on both dry and liquid toner presses including HP(®) Indigo, Kodak NexPress, Xerox(®) iGen3(®) and Xerox(®) iGen4(®), as well as Canon, Ricoh(®), and Konica Minolta bizhub(®) digital presses. With this launch, the Opus brand just got stronger allowing high-value bundling opportunities across the Opus digital, folio sheet and web lines, perfect for corporate paper programs demanding an optical match in one brand.



"Sappi aims to advance the level of excellence for both quality and usability with every addition to our product line," said Jennifer Miller, executive vice president of coated business, Sappi Fine Paper North America. "The strong reputation of the Opus brand and the growing demand for high quality digital cut sheet grades makes our latest innovation, Opus DX, the perfect solution for marketers looking for a beautiful blue-white sheet, with high brightness, and stunning imagery for your most demanding digital and variable data print projects. In addition, Opus DX will be popular with our merchant and printer customers - a single sheet that performs against the most stringent quality ratings across the most popular dry and liquid toner digital production color presses.  We are truly excited to launch Opus DX and promote our now robust digital line with McCoy, Opus and Flo."



As the newest addition to the Opus digital line, Opus DX also rounds out Sappi's full digital portfolio joining the premium McCoy and ever-reliable Flo offerings. Opus DX is the ideal choice for the print professional no matter how difficult the job, delivering both environmental responsibility and dependable quality.



Opus DX is FSC(®) and SFI(® )Chain of Custody certified and Lacey Act compliant. The paper is manufactured using electricity generated with Green-e(®) certified renewable energy, and Opus DX sheets contain 10% Post-Consumer Recycled Fiber (PCRF). Sappi holds an unwavering commitment to sustainability and is also a certified SmartWay(SM) Transport Partner.



The announcement was made in advance of the 2014 Dscoop annual conference, Dscoop9, being held March 6-8, 2014, in Orlando, FL. Sappi will be showcasing its digital offerings at booth #610 at Dscoop9. For additional information on the product launch and Sappi's activities at Dscoop, follow on Twitter at @SappiNA, on Instagram and visit the company's Facebook page.  For samples, please contact your Sappi Sales Representative, or call 1.800.882.4332.



About Sappi Fine Paper North America

Sappi Fine Paper North America, known for innovation and quality, is a preeminent North American producer of coated fine and release papers, as well as dissolving wood pulp (DWP) and market kraft pulp headquartered in Boston, Massachusetts. Its coated fine papers, with highly recognized brand names such as McCoy, Opus, Somerset and Flo, are used in premium magazines, catalogs, books and high-end print advertising. Its food packaging brand, Lusterprint is a greaseproof product with an excellent print surface. The company is also the world's leading supplier of release papers for the automotive, fashion and engineered films industries, including the globally recognized Ultracast brand. Sappi's release papers provide the surface aesthetics for synthetic fabrics used in footwear, clothing, upholstery and accessories, as well as the textures for decorative laminates found in kitchens, baths, flooring and other decorative surfaces. Sappi globally is the world's largest manufacturer of dissolving wood pulp, a versatile raw material for a wide range of products including textile fibers and household products. Sappi Fine Paper North America, through the recent conversion of the Cloquet pulp mill, manufactures dissolving pulp under Sappi's Specialised Cellulose division primarily for the textile markets.



Sappi Fine Paper North America is a subsidiary of Sappi Limited (JSE), a global company headquartered in Johannesburg, South Africa, with over 14,000 employees and manufacturing operations on three continents in seven countries and customers in over 100 countries around the world. Learn more about Sappi at: www.sappi.com/na.



For further information:



Joanna Rieke

Manager, Corporate Communications

Sappi Fine Paper North America

Office:  617-423-5409

joanna.rieke@sappi.com



Shannon McLoughlin

Burson-Marsteller

Office: 617-912-5412

shannon.mcloughlin@bm.com

Related