Dual-Lamp Projector offers brightness up to 12,000 lumens.
Press Release Summary: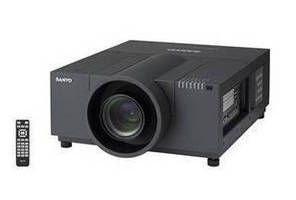 Model LP-XF1000 dual-lamp projector with rich color features QuaDrive(TM) Engine for color control that enables contrast ratio of 4000:1, which optimizes projection image depth and stereoscopic effect. Unit integrates two 330 W lamps and mechanical shutter than can block projection of light. Active Maintenance Filter system allows for filter cartridge replacement interval of about 11,000 hr. Device also enables adjustment without change of position and can project from ceiling or floor.
---
Original Press Release:

SANYO Releases LP-XF1000 Dual-Lamp Projector with 'Rich Color'



Tokyo, Japan - SANYO Electric Co., Ltd. (SANYO) is pleased to announce the release of the LP-XF1000 dual-lamp projector with rich color, on December 18, 2009. The projector features SANYO's own QuaDrive¢ Engine technology and offers the industry's highest brightness*1 of 12,000 lumens in an AC 100V.

Last year, SANYO announced the LP-XP200L (7,000 lumens), the world's first*2 projector to provide big-screen projection of realistic rich color for more beautiful and vivid images with a new optical engine - the QuaDrive(TM) Engine, which became a popular topic at that time.

Now, the company is further increasing projector brightness, by launching the LP-XF1000 projector with rich color, featuring SANYO's own QuaDrive Engine. This model provides 12,000 lumens, the industry's highest brightness*1 in an AC 100V projector. Moreover, the new model can project beautifully bright large-screen images, thanks to its higher resolution based on dual-lamp light combining technology and a high contrast ratio of 4000:1. The LP-XF1000 will be displayed at the GITEX Technology Week 2009 in Dubai, United Arab Emirates, from October 18 to October 22, 2009.



Product              Projector

Product Number       LP-XF1000

Color                (K) Black

MSRP (tax included)  4,200,000 yen

Release Date         December 18, 2009

Monthly Production   150 units



*1 As of October 19, 2009 (scheduled sales date: December 18, 2009), for dual-lamp projectors

*2 As of announcement date, June 18, 2008

Main Features

1. Industry's highest brightness*1 of 12,000 lumens in an AC 100V, and QuaDrive¢ Engine

Big-screen projection in rich color and high brightness

The LP-XF1000 is equipped with two high-output 330-watt lamps, thereby improving light efficiency by 20%*3 compared to a previous model, and achieving the industry's highest brightness*1 of 12,000 lumens.

- It can be plugged into AC 100V outlet, so that no wiring work to convert to AC 200V is necessary.

- In order to realize realistic projection images that are more vivid and beautiful, the LP-XF1000 is equipped with a QuaDrive Engine that adds a "Color Control Device" to the conventional 3LCD system in order to control yellow light independently. Consequently, color richness has been improved by 20%*4, offering high-brightness big-screen projection with rich color. It is especially suited to the digital signage market where high resolution is in demand.

2. Offering high resolution based on dual-lamp light-combining technology and a high contrast ratio of 4000:1 Improved gradation expression for projection images and color uniformity

- Thanks to its QuaDrive Engine with an inorganic LCD panel, the LP-XF1000 offers a high contrast ratio of 4000:1, which provides improved projection image depth and stereoscopic effect.

- Through the incorporation of three mirrors and the use of dual-lamp light-combining technology for uniform light amalgamation, the new model can produce the same brightness with dual-lamps as previous models did with four lamps. This also improves color uniformity for high definition image. More beautiful images can be enjoyed as a result.

3.Active Maintenance Filter (AMF) and outstanding functions enabling a wider range of setup locations Easier maintenance and more versatility

- The LP-XF1000 is equipped with an Active Maintenance Filter (AMF) system that enables a filter cartridge replacement interval of approximately 11,000 hours*5. One cartridge contains a filter roll equal to 10 filters.

- "Power Vertical/Horizontal Lens Shifting Function" and "Power Zoom/Focus Function" enable projection adjustment without changing the projector position. These power-driven systems can be easily operated with a remote control, which is convenient when the projector is fixed in a high place.

- The projector can be used in various situations, since it is equipped with outstanding functions for setup positioning, including "Vertical 360-degree Tilt Angle Projection" that allows projection on the ceiling or floor.

*5 General estimate when Lamp control "eco-mode" is selected, which was calculated through the company's independent test in reference to the JIS D0207 test method. The filter cartridge replacement frequency changes according to actual usage.

4. Other Features

- Mechanical Shutter can completely block the projection light

- Lens-Centered Design for convenient placement

- Easy Stacking Grooves for placing a back-up unit on top

- Ten Optional Lenses are available ranging from short to long-focus types

- Built-in MVP System expansion slot, enabling the adding of Network Boards and Uncompressed HD DATA WIRELESS Transmission System.

- Conforms with the EU RoHS Directive*6

*6 The Restriction of the Use of Certain Hazardous Substances in Electrical and Electronic Equipment Regulations

Outline and Background

The number of high-brightness projectors with 10,000 lumens or more shipped in the world market is expected to be approx. 12,000 units in 2009, approx. 20,000 units in 2010, and approx. 32,000 units in 2011 (according to SANYO forecasts). Along with the expansion of the market, the applications for projectors are also diversifying. Large-screen projectors are increasingly in demand for use as digital signage where color expression is valued, as well as for use in large conference rooms and auditoriums where brightness is desired. This has increased the need for projectors that produce bright images with faithful color reproduction. Last year, SANYO announced the LP-XP200L (7,000 lumens) with the world's first*2 optical engine - the QuaDrive Engine, which was then adopted by the advertisements in art museums, the shopping malls and others.

The new LP-XF1000 meets the demands of this market, while offering 12,000 lumens, the industry's highest brightness*1 in an AC 100V. Thanks to the QuaDrive Engine, the new projector provides big-screen images with rich color. Moreover, the dual-lamp light-combining technology and high contrast projection have increased the depth feeling image and stereoscopic effect while improved dolor uniformity, thereby providing thoroughly high definition images.

*1 As of October 19, 2009 (scheduled sales date: December 18, 2009), for dual-lamp projectors

*2 As of announcement date, June 18, 2008

Press Contact (English Only)

Global Communications Department

Corporate Communications Headquarters

Tel: +81-3-6364-3611

Fax: +81-3-3837-6271

E-mail: i_press@sanyo.com

More from Electronic Components & Devices