Dual Hand Control System aids in safe machine operation.
Press Release Summary: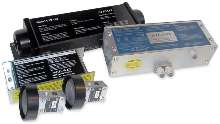 CSVs are 2-hand anti-tiedown controls with recessed actuation buttons and universal mount. Compact, self-contained controls are also offered in version for remote 2-hand, anti-tiedown operations. Low-stress models, suited for high-production applications, require 6 oz actuation force, lowering stress on worker's hands and wrists. Standard models require 18 oz actuation force. Devices also allow for no touch control of electric or pneumatic signals.
---
Original Press Release:

CVS Two-Hand Control Systems Offer Safer Operation of Your Machinery


CSV's are two-hand anti-tiedown controls. When used, they provide safer operation of air presses, drill fixtures, clamping fixtures, cylinders, valves, or light assembly equipment. CVS models have compact and completely self-contained controls, recessed actuation buttons built in the ends and a universal mount for convenient positioning. Also offered is a unit for remote two-hand, anti-tiedown operations.

CSV's are functional when concurrent actuation of the recessed buttons generates a signal. Releasing one or both buttons immediately stops the signal which cannot be re-instituted until both buttons are again actuated concurrently.

Two-hand control low stress models are for high production applications where operator fatigue is a concern. Needing only 6 ounces of force to actuate, these units ease the stress on worker's hands and wrists and greatly reduce the risk of repetitive motion disorders. Standard models require 18 ounces of force to actuate.

Protect your machine operators from the physical stress due to repetitive operations. These unique devices allow for "no touch" control of electric or pneumatic signals while providing user safety with two-hand no-tiedown actuation.

To activate these units, simply interrupt the photo optic beams in the recessed end caps. Units may be ordered with either attached or remote end caps. Remote end caps can be mounted virtually anywhere, including panel mounts.

Since 1939, Mead Fluid Dynamics, Inc. has introduced a stream of innovative technological advances to the field of pneumatic components - including control valves, cylinders, specialty valves, and production devices. For more information about Mead's products visit our website at www.mead-usa.com

Company Contact:
Steve Thiel
Mead Fluid Dynamics, Inc.
773-685-6800

Agency Contact:
Joyce Marcus
Marcus Inc.
847-459-6600 x14

More from Materials