Dual Driver/Receiver comes in single TSSOP package.
Press Release Summary: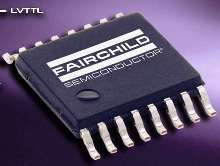 LVDS Model FIN1049 provides high-speed control and data transfer and combines functionality of 2 single D/R devices in 16-lead, TSSOP package. With 400+ Mbps bandwidth, device provides low channel-to-channel and pulse skew of 350 ps max. Rail-to-rail, common-mode range accommodates LVPECL and LVCML logic signals, and power consumption of 90 mW (max) optimizes system power resources and protects against potential chip- and system-level failure.
---
Original Press Release:
Fairchild's New LVDS Dual Driver/Receiver Pair Replaces Two Single Devices; FIN1049 Device Lowers Cost and Power Dissipation

South Portland, Maine-April 22, 2003-Fairchild Semiconductor International (NYSE: FCS) announces the FIN1049, a new LVDS Dual Driver/Receiver pair that provides high-speed control or data transfer-in and outside of the box. The dual D/R combines the functionality of two single D/R devices in one high-performance, 16-lead TSSOP package, saving PCB real estate and lowering IC part count by 50%. Typical communications applications include chip-to-chip backplane and cable interconnections in transmission, metro/access, enterprise, and wireless equipment as well as interconnects for computing systems such as printers, scanners, and servers.

The FIN1049 device's 400+ Mbps bandwidth provides a low channel-to-channel and pulse skew of 350ps maximum. A wide rail-to-rail common-mode range enhances device versatility by accommodating both LVPECL and LVCML logic signals. The device's very low power consumption of only 90mW maximum optimizes system power resources and protects against potential chip- and system-level failure through the FIN1049's tested 7kV ESD specification on all pins (human body model).

According to Matt Johnson, LVDS marketing manager, "The introduction of the FIN1049 reinforces Fairchild's position as the leading backplane interconnect technology supplier committed to providing innovative solutions that couple price/performance value with world-class customer support from Fairchild's Ensigna(tm) Labs."

The addition of the FIN1049 expands Fairchild's offering of products for optimization of system power including MOSFETs, regulators and temperature sensors.

Price: $1.99 each, 1000 count; in rail (FIN1049-MTC) or tape-and-reel (FIN1049-MTCX) packing

Availability: Now

Delivery: 4-6 weeks ARO

For more information, contact Fairchild Semiconductor Customer Response Group at (888) 522-5372, fax (972) 910-8036 or visit Fairchild's website at www.fairchildsemi.com.

About Fairchild Semiconductor

Fairchild Semiconductor International (NYSE: FCS) is a leading global supplier of high-performance products for multiple end markets. With a focus on developing leading-edge power and interface solutions to enable the electronics of today and tomorrow, Fairchild's components are used in computing, communications, consumer, industrial, and automotive applications. Fairchild's 10,000 employees design, manufacture and market power, analog & mixed signal, interface, logic, and optoelectronics products from its headquarters in South Portland, Maine, USA and numerous locations around the world. Please contact us on the web at: www.fairchildsemi.com.

More from Machinery & Machining Tools